Double Chocolate Fudgey Brownies
Yummy Yogurt Pops
View more "Desserts & Sweets" recipes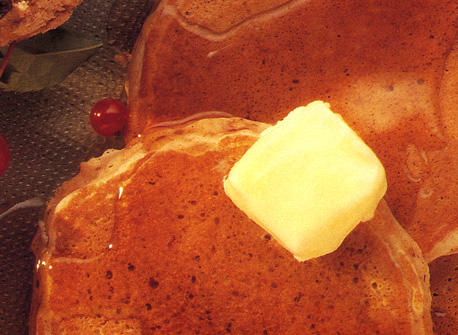 Wheat ''N Oat Pancakes
Add to Calendar
09/21/2019 10:00 AM
09/21/2019 11:00 AM
America/New_York
Choose the perfect time to make this recipe
What you'll need:

1/2 cup (125 mL) quick-cooking rolled oats
1 3/4 cups (430 mL) Milk
1 cup (250 mL) all-purpose flour
3/4 cup (180 mL) whole wheat flour
2 tbsp (30 mL) sugar
1 tbsp (15 mL) baking fowder
1/2 tsp (2 mL) salt
1/2 tsp (2 mL) ground cinnamon
2 eggs
2 tbsp (30 mL) vegetable oil
1 tsp (5 mL) vanilla extract

Yields: 4 servings

See full recipe: https://www.dairygoodness.ca/recipes/wheat-n-oat-pancakes?source=calendar
Wheat ''N Oat Pancakes
true
MM/DD/YYYY
anvcJoeUXzVEZwIspmZn22961
Course

Desserts & Sweets

Prep. Time

10 mins

Cooking Time

5 mins

Yields

4 servings
Course

Desserts & Sweets

Prep. Time

10 mins

Cooking Time

5 mins

Yields

4 servings
---
Ingredients
1/2 cup
(125 mL)
quick-cooking rolled oats
1 cup
(250 mL)
all-purpose flour
3/4 cup
(180 mL)
whole wheat flour
1 tbsp
(15 mL)
baking fowder
1/2 tsp
(2 mL)
ground cinnamon
2 tbsp
(30 mL)
vegetable oil
1 tsp
(5 mL)
vanilla extract
Preparation
Combine oats and milk. Let stand 5 min.
Mix flours, sugar, baking powder, salt and cinnamon in large bowl.
Beat eggs, oil and vanilla into oat mixture with whisk or fork just until blended. Stir into flour mixture just until moistened. Do not over mix. Mixture should still be lumpy.
Place lightly buttered skillet on medium heat. Cook, using about 1/3 cup (80 ml) batter for each pancake, until bubbles form on surface. Turn and brown other side.
Serve warm with butter and maple syrup, as desired.