Double Chocolate Fudgey Brownies
Yummy Yogurt Pops
View more "Desserts & Sweets" recipes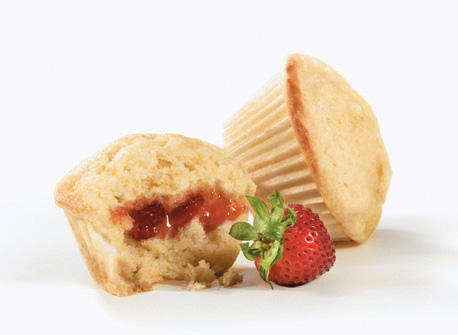 Sweet Cornmeal Surprise Muffins
Add to Calendar
09/15/2019 10:00 AM
09/15/2019 11:00 AM
America/New_York
Choose the perfect time to make this recipe
What you'll need:

3/4 cup (180 mL) cornmeal
1 1/4 cups (310 mL) Milk
2 cups (500 mL) all-purpose flour
2 tsp (10 mL) baking powder
1/2 tsp (2 mL) baking soda
1/4 tsp (1 mL) salt
2/3 cup (160 mL) sugar
1 egg
1/2 cup (125 mL) plain yogurt, (not fat free)
1/4 cup (60 mL) butter, melted
1 tsp (5 mL) vanilla extract
1/4 cup (60 mL) berry jam, divided

Yields: 12 muffins

See full recipe: https://www.dairygoodness.ca/recipes/sweet-cornmeal-surprise-muffins?source=calendar
Sweet Cornmeal Surprise Muffins
true
MM/DD/YYYY
anvcJoeUXzVEZwIspmZn22961
Course

Desserts & Sweets

Prep. Time

10 - 15 mins

Cooking Time

20 - 25 mins

Yields

12 muffins
Perfectly totable and totally tasty, these moist muffins filled with a burst of berry jam are perfect for breakfast or a snack accompanied by a cold glass of Milk and some fresh fruit.
Course

Desserts & Sweets

Prep. Time

10 - 15 mins

Cooking Time

20 - 25 mins

Yields

12 muffins
---
Ingredients
3/4 cup
(180 mL)
cornmeal
2 cups
(500 mL)
all-purpose flour
2 tsp
(10 mL)
baking powder
1/2 tsp
(2 mL)
baking soda
1/2 cup
(125 mL)
plain yogurt
, (not fat free)
1/4 cup
(60 mL)
butter
, melted
1 tsp
(5 mL)
vanilla extract
1/4 cup
(60 mL)
berry jam
, divided
Preparation
Preheat oven to 375 °F (190 °C). Butter a 12-cup nonstick muffin pan or line with paper liners.
In a medium bowl, combine cornmeal and milk; set aside for 3 min.
In a large bowl, combine flour, baking powder, baking soda and salt. Whisk sugar, egg, yogurt, butter and vanilla into milk mixture; pour over dry ingredients and stir just until moistened.
Spoon enough batter into prepared muffin pan to fill cups just under half full. Spoon 1 tsp (5 mL) of jam in the centre of each cup and top with remaining batter. Bake for 20 to 25 min or until tops are firm to the touch. Let cool in pan for 10 min. Transfer to rack to cool completely.
Tips
Cooking Tip: Be sure to use plain yogurt without any added gelatin for best results in baking.
Tip for Kids: Kids can help measure the ingredients and spoon the batter and jam in the pans.
For the Adventurous: Make a savoury version: reduce sugar to 1/3 cup (80 mL), add 1/4 cup (60 mL) chopped fresh cilantro or basil and 1/4 tsp (1 mL) cayenne pepper with the flour use hot pepper jelly in the centre.