Swiss Lemon Poppy Seed Bagels
Tuna and Noodle Bake
View more "Main Dishes" recipes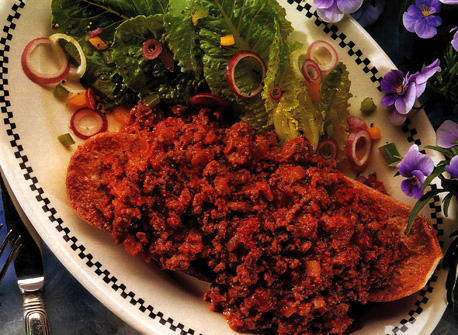 Sloppy Joes
Add to Calendar
09/20/2019 10:00 AM
09/20/2019 11:00 AM
America/New_York
Choose the perfect time to make this recipe
What you'll need:

2 tbsp (30 mL) olive oil
1 onion, chopped
2 garlic cloves, minced
1 lb (450 g) lean ground beef
1 cup (250 mL) tomato sauce
1 cup (250 mL) Milk
1 tbsp (15 mL) Worcestershire sauce
1 tbsp (15 mL) brown sugar
1 tsp (5 mL) chili powder
Salt and pepper, to taste
4 rolls or English muffins, toasted

Yields: 4 servings

See full recipe: https://www.dairygoodness.ca/recipes/sloppy-joes?source=calendar
Sloppy Joes
true
MM/DD/YYYY
anvcJoeUXzVEZwIspmZn22961
Course

Main Dishes

Prep. Time

10 mins

Cooking Time

20 mins

Yields

4 servings
Course

Main Dishes

Prep. Time

10 mins

Cooking Time

20 mins

Yields

4 servings
---
Ingredients
1 lb
(450 g)
lean ground beef
1 cup
(250 mL)
tomato sauce
1 tbsp
(15 mL)
Worcestershire sauce
1 tbsp
(15 mL)
brown sugar
1 tsp
(5 mL)
chili powder
Salt and pepper
, to taste
Preparation
Heat oil in a large skillet. Add onion and garlic. Cook 4 to 5 min or until tender and fragrant. Add ground beef. Break meat up with a wooden spoon and cook until meat loses raw appearance. Drain off any fat. Add tomato sauce, milk, Worcestershire sauce, brown sugar and seasonings.
Simmer, uncovered, over medium heat 15 min or until very thick. Serve over toasted rolls or English muffins.
Tips
To make Tacos, prepare sauce as above. Use to fill tacos and top with grated cheese, chopped tomatoes, sour cream and any other taco "fixins" you like.