Swiss Lemon Poppy Seed Bagels
Tuna and Noodle Bake
View more "Main Dishes" recipes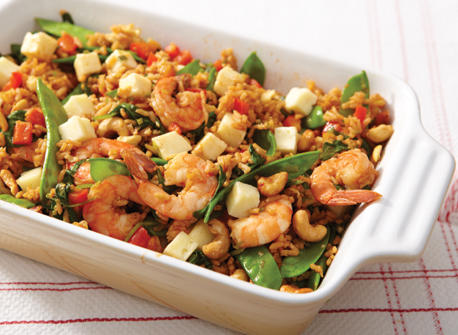 Shrimp fried rice with Havarti
Add to Calendar
04/24/2019 10:00 AM
04/24/2019 11:00 AM
America/New_York
Choose the perfect time to make this recipe
What you'll need:

2 tbsp (30 mL) butter
1 1/2 tbsp (22 mL) fresh ginger, chopped
2 cloves garlic, chopped
5 green onions, chopped
1 red pepper, diced
1 1/2 cup (375 mL) snow peas
3/4 lb (340 g) small shrimp, peeled
4 cups (1 L) cooked rice
2 eggs, whipped
3 tbsp (45 mL) low-sodium soy sauce
2 tbsp (30 mL) tomato paste
2 cups (500 mL) baby spinach
1/3 cup (80 mL) unsalted cashews
Freshly ground pepper
5 oz (150 g) Canadian Havarti, diced

Yields: 4 to 8 servings

See full recipe: https://www.dairygoodness.ca/recipes/shrimp-fried-rice-with-havarti?source=calendar
Shrimp fried rice with Havarti
true
MM/DD/YYYY
anvcJoeUXzVEZwIspmZn22961
Course

Main Dishes

Prep. Time

20 mins

Cooking Time

15 mins

Yields

4 to 8 servings
Course

Main Dishes

Prep. Time

20 mins

Cooking Time

15 mins

Yields

4 to 8 servings
---
Ingredients
1 1/2 tbsp
(22 mL)
fresh ginger
, chopped
1 1/2 cup
(375 mL)
snow peas
3/4 lb
(340 g)
small shrimp
, peeled
3 tbsp
(45 mL)
low-sodium soy sauce
2 tbsp
(30 mL)
tomato paste
2 cups
(500 mL)
baby spinach
1/3 cup
(80 mL) unsalted
cashews
5 oz
(150 g)
Canadian Havarti
, diced
Preparation
In a large skillet or a wok, melt butter on medium heat and brown ginger, garlic, green onions, red pepper and snow peas.
Add shrimp and rice. Cook about 4–5 minutes until thoroughly heated.
Make a well in the middle of the skillet and pour in eggs. Cook like scrambled eggs, then mix with the other ingredients in the skillet.
Mix soy sauce and tomato paste and pour into the skillet. Stir thoroughly to coat rice and vegetables.
Add spinach and cashews, and cook another 2 minutes.
Pepper to taste and add Havarti just before serving.
Tips
Rice is cooked ahead of time and may be served hot or as a cold salad (with a dressing).
Canadian Gouda, Medium Cheddar, Provolone