Swiss Lemon Poppy Seed Bagels
Tuna and Noodle Bake
View more "Main Dishes" recipes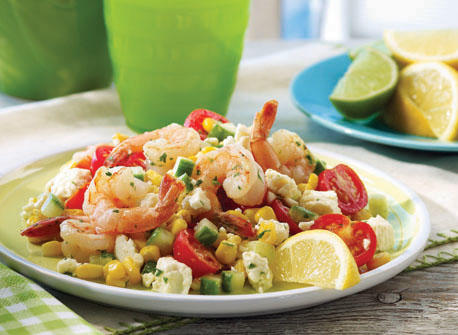 Shrimp and Feta papillote
Add to Calendar
09/20/2019 10:00 AM
09/20/2019 11:00 AM
America/New_York
Choose the perfect time to make this recipe
What you'll need:

1 lb (450 g) fresh or frozen shrimp, uncooked
2 cups (500 mL) fresh or frozen corn kernels
2 tbsp (30 mL) butter
2 cloves garlic, chopped
2 tbsp (30 mL) fresh parsley, chopped
2 tomatoes, seeded and diced or 1 1/2 cups (375 mL) cherry tomatoes halved
7 oz (200 g) Canadian Feta, crumbled
1 cucumber, diced
Pepper

Yields: 4 servings

See full recipe: https://www.dairygoodness.ca/recipes/shrimp-and-feta-papillote?source=calendar
Shrimp and Feta papillote
true
MM/DD/YYYY
anvcJoeUXzVEZwIspmZn22961
Course

Main Dishes

Prep. Time

15 mins

Cooking Time

10 mins

Refrigeration Time

10 mins

Yields

4 servings
Course

Main Dishes

Prep. Time

15 mins

Cooking Time

10 mins

Refrigeration Time

10 mins

Yields

4 servings
---
Ingredients
1 lb
(450 g) fresh or frozen
shrimp
, uncooked
2 cups
(500 mL) fresh or frozen
corn kernels
2 tbsp
(30 mL)
fresh parsley
, chopped
2
tomatoes
, seeded and diced or
1 1/2 cups
(375 mL)
cherry tomatoes halved
7 oz
(200 g)
Canadian Feta
, crumbled
Preparation
Watch the video
Embed Video
Copy and paste this code into your webpage
Ok
Close Video
Covered with fresh herbs and cooked papillote-style on the barbecue, shrimps are the star ingredient of this savoury warm salad. Crumbled Canadian Feta, beautiful cherry tomatoes and crunchy cucumber blend perfectly to create the colourful tasty dish presented in this video.
Preheat grill to high.
Place shrimp, corn, butter, garlic and parsley on a large sheet of aluminum foil. Cover with a second sheet, and fold edges together to seal contents. Cook with lid closed about 10 minutes, depending on size of shrimp.
In a large bowl, mix tomatoes, Feta and cucumber.
Add contents of papillote, stir, and serve.
Tips
Cheese alternative: Canadian Gouda.