Swiss Lemon Poppy Seed Bagels
Tuna and Noodle Bake
View more "Main Dishes" recipes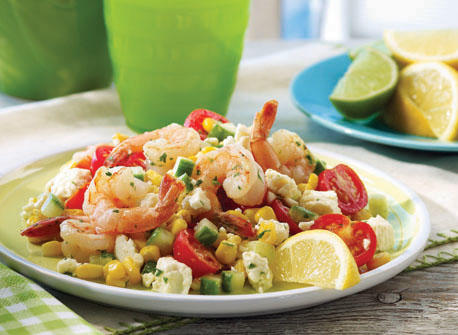 Shrimp and Feta papillote
Add to Calendar
09/16/2019 10:00 AM
09/16/2019 11:00 AM
America/New_York
Choose the perfect time to make this recipe
What you'll need:

1 lb (450 g) fresh or frozen shrimp, uncooked
2 cups (500 mL) fresh or frozen corn kernels
2 tbsp (30 mL) butter
2 cloves garlic, chopped
2 tbsp (30 mL) fresh parsley, chopped
2 tomatoes, seeded and diced or 1 1/2 cups (375 mL) cherry tomatoes halved
7 oz (200 g) Canadian Feta, crumbled
1 cucumber, diced
Pepper

Yields: 4 servings

See full recipe: https://www.dairygoodness.ca/recipes/shrimp-and-feta-papillote?source=calendar
Shrimp and Feta papillote
true
MM/DD/YYYY
anvcJoeUXzVEZwIspmZn22961
Course

Main Dishes

Prep. Time

15 mins

Cooking Time

10 mins

Refrigeration Time

10 mins

Yields

4 servings
Course

Main Dishes

Prep. Time

15 mins

Cooking Time

10 mins

Refrigeration Time

10 mins

Yields

4 servings
---
Ingredients
1 lb
(450 g) fresh or frozen
shrimp
, uncooked
2 cups
(500 mL) fresh or frozen
corn kernels
2 tbsp
(30 mL)
fresh parsley
, chopped
2
tomatoes
, seeded and diced or
1 1/2 cups
(375 mL)
cherry tomatoes halved
7 oz
(200 g)
Canadian Feta
, crumbled
Preparation
Watch the video
Preheat grill to high.
Place shrimp, corn, butter, garlic and parsley on a large sheet of aluminum foil. Cover with a second sheet, and fold edges together to seal contents. Cook with lid closed about 10 minutes, depending on size of shrimp.
In a large bowl, mix tomatoes, Feta and cucumber.
Add contents of papillote, stir, and serve.
Tips
Cheese alternative: Canadian Gouda.