Canadian Swiss Cheese and Ham Tartlets
Escargots in Phyllo Pastry with Eggplant Purée
View more "Hors D'oeuvres & Appetizers" recipes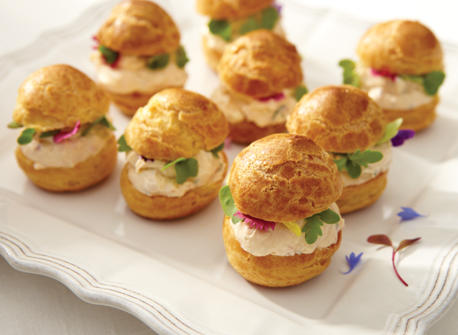 Savoury Cream Cheese Profiteroles
Add to Calendar
10/18/2017 10:00 AM
10/18/2017 11:00 AM
America/New_York
Choose the perfect time to make this recipe
What you'll need:


Milk cream-puff pastry:
1 cup (250 mL) milk
1/2 tbsp (7 mL) sugar
1/2 tsp (2 mL) salt
1/3 cup (80 mL) butter
4 eggs
1 cup (250 mL) flour

Filling:
8 oz (250 g) spreadable Canadian Cream cheese
2 tbsp (30 mL) parsley, chopped
1 French shallot, chopped
1 tbsp (15 mL) sun-dried tomato pesto
Lettuce shoots or fine herbs

Yields: 48 servings

See full recipe: https://www.dairygoodness.ca/recipes/savoury-cream-cheese-profiteroles?source=calendar
Savoury Cream Cheese Profiteroles
true
MM/DD/YYYY
anvcJoeUXzVEZwIspmZn22961
Comments
Course

Hors D'oeuvres & Appetizers

Prep. Time

40 mins

Cooking Time

30 - 40 mins

Yields

48 servings
For a delicious and fresh entrée that your guests will appreciate, serve these cute and delightful pastries stuffed with a luscious cream cheese and sundried tomato pesto filling.
Course

Hors D'oeuvres & Appetizers

Prep. Time

40 mins

Cooking Time

30 - 40 mins

Yields

48 servings
---
Ingredients
Milk cream-puff pastry:
Filling:
8 oz
(250 g) spreadable
Canadian Cream cheese
2 tbsp
(30 mL)
parsley
, chopped
1
French shallot
, chopped
1 tbsp
(15 mL)
sun-dried tomato pesto
Preparation
Preheat oven to 350oF (180oC). Line cookie sheet with parchment paper.
Whip eggs and set aside.
In saucepan, bring milk to boil with sugar, salt and butter.
Add flour to saucepan and stir until thickened dough doesn't stick to sides of saucepan.
Transfer to bowl and incorporate eggs a bit at a time, stirring well between additions.
Drop teaspoons of pastry dough onto parchment-covered cookie sheet.
Bake 30–40 minutes or until puffed up and golden.
Let cool. Store in tightly sealed container until use. Puffs may be frozen in advance.
Mix cheese with parsley, shallot and pesto.
Cut puffs horizontally in two. Garnish bottoms with 2 tsp (10 ml) filling and lettuce shoots or fine herbs. Cover with top halves, then serve