Swiss Lemon Poppy Seed Bagels
Tuna and Noodle Bake
View more "Main Dishes" recipes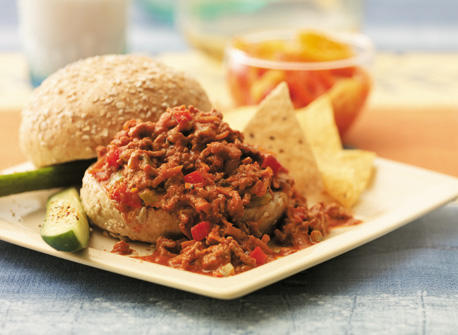 Power-Packed Sloppy Joes
Add to Calendar
09/17/2019 10:00 AM
09/17/2019 11:00 AM
America/New_York
Choose the perfect time to make this recipe
What you'll need:

1 lb (450 g) lean ground beef
2 cloves garlic, minced
2 carrots, shredded
2 tbsp (30 mL) chili powder
2 cups (500 mL) Milk
1/3 cup (80 mL) tomato paste
1 cup (250 mL) tomato sauce
1 red or green bell pepper, finely chopped
1/4 tsp (1 mL) salt
4 whole wheat hamburger buns, split and toasted

Yields: 4 servings

See full recipe: https://www.dairygoodness.ca/recipes/power-packed-sloppy-joes?source=calendar
Power-Packed Sloppy Joes
true
MM/DD/YYYY
anvcJoeUXzVEZwIspmZn22961
Course

Main Dishes

Prep. Time

15 mins

Cooking Time

20 mins

Yields

4 servings
Course

Main Dishes

Prep. Time

15 mins

Cooking Time

20 mins

Yields

4 servings
---
Ingredients
1 lb
(450 g)
lean ground beef
2 tbsp
(30 mL)
chili powder
1/3 cup
(80 mL)
tomato paste
1 cup
(250 mL)
tomato sauce
1
red or green
bell pepper
, finely chopped
4
whole wheat hamburger buns
, split and toasted
Preparation
In a large skillet, sauté beef, garlic, carrots and chili powder over medium-high heat for about 10 min, breaking up beef with a spoon; drain off any fat. Stir in milk and bring to boil; reduce heat and boil gently, stirring occasionally, until about half of the liquid is absorbed.
Stir in tomato paste, then tomato sauce and red pepper; simmer for about 5 min or until thick. Stir in salt to taste. Spoon over toasted hamburger buns.
Tips
Cooking Tip: For quick shredding and chopping of vegetables, use your food processor. Picky eaters won't detect small pieces of vegetables as easily.
For the Adventurous: Add 1 shredded zucchini with carrots; stir in 1/4 cup (60 mL) sliced olives and 2 tsp (10 mL) chopped fresh jalapeño with the pepper.
Healthy Eating Tip: Nutrition Month ' Stats Canada reports that many Canadians don't get enough vegetables and fruit nor Milk products on a daily basis. This four food group meal can be served with a glass of cold milk, a mixed green salad and fruit with vanilla yogurt topping to make sure your family isn't falling into this dietary trap.