Swiss Lemon Poppy Seed Bagels
Tuna and Noodle Bake
View more "Main Dishes" recipes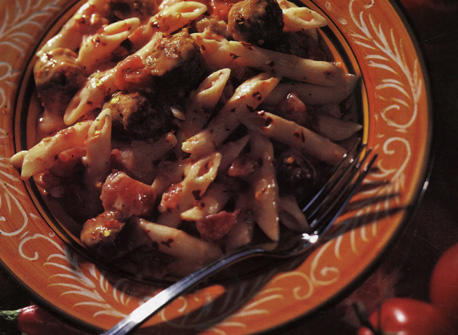 Penne and Italian Sausage
Add to Calendar
08/22/2019 10:00 AM
08/22/2019 11:00 AM
America/New_York
Choose the perfect time to make this recipe
What you'll need:

1 lb (450) hot or mild Italian sausage
1 onion, chopped
1 garlic clove, minced
1 tbsp (5 mL) Italian seasoning
1/4 tsp (1 mL) crushed red pepper
1 tbsp (15 mL) cornstarch
2 cups (500 mL) Milk
1 can (19 oz/ 540 mL) tomatoes, chopped
8 oz (250 g) penne
1 cup (250 mL) grated Canadian Mozzarella cheese

Yields: 4 to 6 servings

See full recipe: https://www.dairygoodness.ca/recipes/penne-and-italian-sausage?source=calendar
Penne and Italian Sausage
true
MM/DD/YYYY
anvcJoeUXzVEZwIspmZn22961
Course

Main Dishes

Prep. Time

15 mins

Cooking Time

25 mins

Yields

4 to 6 servings
A one pot recipe is always welcome and when it's as good as this, it will become a family favourite. -James Barber
Course

Main Dishes

Prep. Time

15 mins

Cooking Time

25 mins

Yields

4 to 6 servings
---
Ingredients
1 lb
(450 ) hot or mild
Italian sausage
1 tbsp
(5 mL)
Italian seasoning
1/4 tsp
(1 mL)
crushed red pepper
1 tbsp
(15 mL)
cornstarch
1 can
(19 oz/ 540 mL)
tomatoes
, chopped
1 cup
(250 mL) grated
Canadian Mozzarella cheese
Preparation
Cut sausage into 1 inch (2.5 cm) pieces. In a large skillet, cook sausages over medium-high heat until browned on all sides. Add onion, garlic, Italian seasoning and crushed red pepper; cook until onion is tender. Stir in cornstarch. Add milk, stir until mixture comes to a boil and thickens.
Add tomatoes and penne. Return to a boil, cover and simmer for 15 minutes or until pasta is tender. Stir in Canadian Mozzarella cheese and serve.
Tips
For the adventurous: Try seasoned canned tomatoes. Add 1/2 to 1 tsp (2 to 5 mL) chili powder when seasoning sausages.