Swiss Lemon Poppy Seed Bagels
Tuna and Noodle Bake
View more "Main Dishes" recipes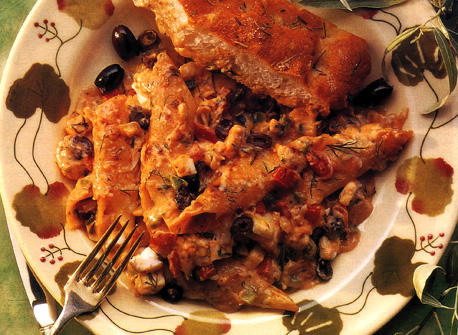 Pasta and Feta Cheese Casserole
Add to Calendar
09/20/2019 10:00 AM
09/20/2019 11:00 AM
America/New_York
Choose the perfect time to make this recipe
What you'll need:

1/2 lb (225 g) penne or shell shaped pasta
1/4 cup (60 mL) butter
1 onion, chopped
2 garlic cloves, minced
1 green bell pepper, diced
1/4 cup (60 mL) all-purpose flour
2 1/2 cups (625 mL) Milk
2 tbsp (30 mL) tomato paste
1/2 tsp (2 mL) salt
1/4 tsp (1 mL) pepper
1/2 lb (225 g) Canadian feta cheese, drained and cubed
1/2 cup (125 mL) grated Canadian Parmesan cheese
1/2 cup (125 mL) sliced pitted black olives, drained (optional)
2 tbsp (30 mL) fresh dill or fresh parsley, chopped
1/2 tsp (2 mL) dried oregano

Yields: 6 servings

See full recipe: https://www.dairygoodness.ca/recipes/pasta-and-feta-cheese-casserole?source=calendar
Pasta and Feta Cheese Casserole
true
MM/DD/YYYY
anvcJoeUXzVEZwIspmZn22961
Course

Main Dishes

Prep. Time

15 mins

Cooking Time

25 - 30 mins

Yields

6 servings
Course

Main Dishes

Prep. Time

15 mins

Cooking Time

25 - 30 mins

Yields

6 servings
---
Ingredients
1
green bell pepper
, diced
1/4 cup
(60 mL)
all-purpose flour
2 tbsp
(30 mL)
tomato paste
1/2 lb
(225 g)
Canadian feta cheese
, drained and cubed
1/2 cup
(125 mL) grated
Canadian Parmesan cheese
1/2 cup
(125 mL) sliced pitted
black olives
, drained (optional)
2 tbsp
(30 mL)
fresh dill
or
1/2 tsp
(2 mL)
dried oregano
Preparation
In large pot of boiling water, cook pasta according to package directions until al dente; drain.
Melt butter in a large saucepan. Add onion, garlic and green bell pepper. Cook 3 to 4 min. Stir in flour. Cook 3 min. Add milk, tomato paste, salt and pepper. Bring to a boil. Reduce heat and cook 5 min, stirring often.
Combine pasta with sauce. Add Feta cheese, 1/4 cup (60 mL) Parmesan, olives, fresh dill and oregano. Transfer mixture to a 9 x 13-inch (23 x 33 cm) baking dish. Sprinkle with remaining Parmesan.
Bake in a pre-heated 350 °F (180 °C) oven for 25 to 30 min.