Swiss Lemon Poppy Seed Bagels
Tuna and Noodle Bake
View more "Main Dishes" recipes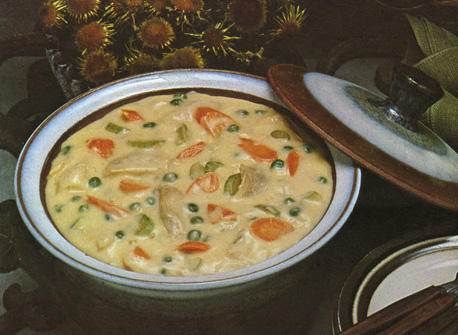 Home-Style Chicken Stew
Add to Calendar
08/19/2019 10:00 AM
08/19/2019 11:00 AM
America/New_York
Choose the perfect time to make this recipe
What you'll need:

1 (3 1/2 to 4 lb / 1.5 kg to 2 kg) chicken, cut up
2 chicken bouillon cubes
2 cups (500 mL) boiling water
1 tsp (5 mL) poultry seasoning
1/4 tsp (1 mL) dried thyme
1 tsp (5 mL) salt
1/4 tsp (1 mL) pepper
2 cups (500 mL) thinly sliced carrots
3/4 cup (180 mL) sliced celery
5 small onions, halved
1/2 cup (125 mL) all-purpose flour
1 1/2 cups (375 mL) Milk
1 1/2 cups (375 mL) frozen peas

Yields: 6 to 8 servings

See full recipe: https://www.dairygoodness.ca/recipes/home-style-chicken-stew?source=calendar
Home-Style Chicken Stew
true
MM/DD/YYYY
anvcJoeUXzVEZwIspmZn22961
Course

Main Dishes

Prep. Time

20 mins

Cooking Time

1 hr

Yields

6 to 8 servings
Course

Main Dishes

Prep. Time

20 mins

Cooking Time

1 hr

Yields

6 to 8 servings
---
Ingredients
1
(3 1/2 to 4 lb / 1.5 kg to 2 kg)
chicken
, cut up
2 cups
(500 mL)
boiling water
1 tsp
(5 mL)
poultry seasoning
1/4 tsp
(1 mL)
dried thyme
2 cups
(500 mL) thinly sliced
carrots
3/4 cup
(180 mL) sliced
celery
1/2 cup
(125 mL)
all-purpose flour
1 1/2 cups
(375 mL)
frozen peas
Preparation
Place chicken pieces in a large saucepan. Dissolve chicken bouillon cubes in boiling water. Pour over chicken in the pan. Add poultry seasoning, thyme, salt and pepper. Cover and simmer 45 min or until tender. Remove chicken.
Add carrots, celery and onions to broth; simmer 20 min longer or until vegetables are just tender.
Meanwhile, remove bones and skin from chicken meat. Cut into bite-size pieces. Combine flour and milk. Add to saucepan slowly, along with peas and stir constantly until smoothly thickened and mixture comes to the boil. Add chicken and heat through.