Swiss Lemon Poppy Seed Bagels
Tuna and Noodle Bake
View more "Main Dishes" recipes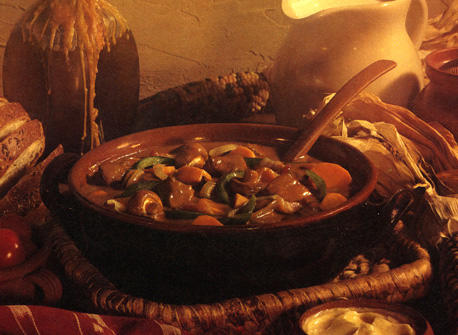 Hearty Beef Goulash
Add to Calendar
09/15/2019 10:00 AM
09/15/2019 11:00 AM
America/New_York
Choose the perfect time to make this recipe
What you'll need:

1 tbsp (15 mL) oil
2 slices of bacon, chopped
1 garlic clove, minced
2 carrots, sliced
2 medium onions, sliced
1 green bell pepper, sliced
3 oz (90 g) whole small mushrooms
1 1/2 lb (675 g) stewing beef, cubed
1/4 cup (60 mL) all-purpose flour
3 tbsp (45 mL) paprika
1 cup (250 mL) beef broth
1 bay leaf
1 cup (250 mL) Milk
1 tbsp (15 mL) all-purpose flour
Salt and freshly ground pepper, to taste

Yields: 4 to 6 servings

See full recipe: https://www.dairygoodness.ca/recipes/hearty-beef-goulash?source=calendar
Hearty Beef Goulash
true
MM/DD/YYYY
anvcJoeUXzVEZwIspmZn22961
Course

Main Dishes

Prep. Time

20 mins

Cooking Time

1 hr, 30 mins - 1 hr, 40 mins

Yields

4 to 6 servings
Course

Main Dishes

Prep. Time

20 mins

Cooking Time

1 hr, 30 mins - 1 hr, 40 mins

Yields

4 to 6 servings
---
Ingredients
2
slices of
bacon
, chopped
1
green bell pepper
, sliced
3 oz
(90 g) whole small
mushrooms
1 1/2 lb
(675 g)
stewing beef
, cubed
1/4 cup
(60 mL)
all-purpose flour
1 cup
(250 mL)
beef broth
1 tbsp
(15 mL)
all-purpose flour
Salt and freshly ground pepper
, to taste
Preparation
Heat oil in a skillet; add bacon and cook until lightly browned; remove with a slotted spoon to a large pot. Add garlic, carrots, onions,bell pepper and mushrooms to skillet and stir over medium heat for 5 min; remove and add to pot.
Toss beef chunks in flour; sauté, adding more oil if necessary; add to vegetables. Mix paprika well into meat and vegetable mixture; stir in broth and bay leaf; bring slowly to a boil.
Lower heat; simmer, covered, until meat is tender, about 1 1/2 hours. Add milk, mixed with remaining flour. Cook, stirring over medium heat until sauce is thickened. Season to taste.