Double Chocolate Fudgey Brownies
Yummy Yogurt Pops
View more "Desserts & Sweets" recipes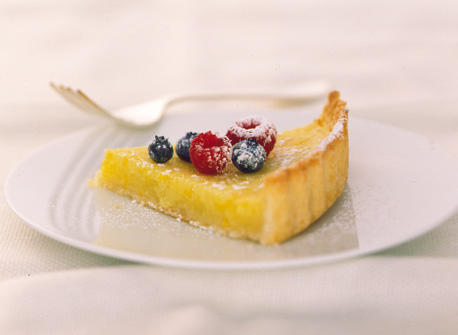 French Lemon Tart
Add to Calendar
09/15/2019 10:00 AM
09/15/2019 11:00 AM
America/New_York
Choose the perfect time to make this recipe
What you'll need:

2 eggs
1 egg white
3/4 cup (180 mL) sugar
1/2 cup (125 mL) freshly squeezed lemon juice
Grated rind of 2 lemons
1/2 cup (125 mL) 35 % cream
1 frozen 9-inch (23 cm) deep-dish pie shell, baked
1 cup (250 mL) fresh fruit, to garnish
Icing sugar

Yields: 6 to 8 servings

See full recipe: https://www.dairygoodness.ca/recipes/french-lemon-tart?source=calendar
French Lemon Tart
true
MM/DD/YYYY
anvcJoeUXzVEZwIspmZn22961
Course

Desserts & Sweets

Prep. Time

10 mins

Cooking Time

25 - 30 mins

Yields

6 to 8 servings
A delicate thin crust with an intense lemon filling. Elegant any time of year and easy!
Course

Desserts & Sweets

Prep. Time

10 mins

Cooking Time

25 - 30 mins

Yields

6 to 8 servings
---
Ingredients
1/2 cup
(125 mL) freshly squeezed
lemon juice
1/2 cup
(125 mL)
35 % cream
1
frozen 9-inch (23 cm) deep-dish
pie shell
, baked
1 cup
(250 mL)
fresh fruit
, to garnish
Preparation
Preheat oven to 350 °F (180 °C).
In medium bowl, beat eggs and egg white with sugar for 1 min on low speed or until thick and creamy. Slowly beat in lemon juice and rind. Stir in cream until well blended; pour into baked pie shell.
Bake on baking sheet for 25 top 30 min or until set. (Filling may still wobble slightly in centre.) Let cool completely.
To serve, top each slice with spoonful of fruit and sprinkle with icing sugar.