Double Chocolate Fudgey Brownies
Yummy Yogurt Pops
View more "Desserts & Sweets" recipes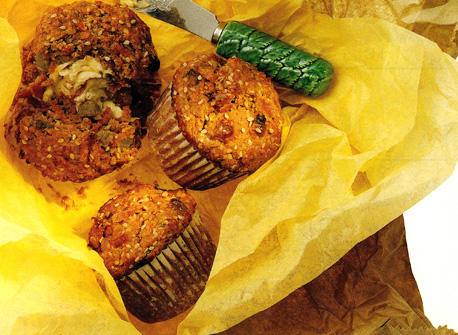 Double Bran Muffins
Add to Calendar
09/16/2019 10:00 AM
09/16/2019 11:00 AM
America/New_York
Choose the perfect time to make this recipe
What you'll need:

1 cup (250 mL) whole wheat flour
1 cup (250 mL) all-purpose flour
1/3 cup (80 mL) wheat bran
1/3 cup (80 mL) oat bran
1/3 cup (80 mL) packed brown sugar
1 tbsp (15 mL) baking powder
1 tsp (5 mL) ground cinnamon
1 egg
1 cup (250 mL) Milk
1/3 cup (80 mL) butter, melted
2 tbsp (30 mL) molasses
1/2 cup (125 mL) raisins
1/2 cup (125 mL) sesame seeds
1 cup (250 mL) grated carrots

Yields: 12 muffins

See full recipe: https://www.dairygoodness.ca/recipes/double-bran-muffins?source=calendar
Double Bran Muffins
true
MM/DD/YYYY
anvcJoeUXzVEZwIspmZn22961
Course

Desserts & Sweets

Prep. Time

10 mins

Cooking Time

25 mins

Yields

12 muffins
Course

Desserts & Sweets

Prep. Time

10 mins

Cooking Time

25 mins

Yields

12 muffins
---
Ingredients
1 cup
(250 mL)
whole wheat flour
1 cup
(250 mL)
all-purpose flour
1/3 cup
(80 mL)
wheat bran
1/3 cup
(80 mL) packed
brown sugar
1 tbsp
(15 mL)
baking powder
1 tsp
(5 mL)
ground cinnamon
1/3 cup
(80 mL)
butter
, melted
1/2 cup
(125 mL)
sesame seeds
1 cup
(250 mL) grated
carrots
Preparation
Combine flours, wheat bran, oat bran, brown sugar, baking powder and cinnamon. Stir well.
Combine egg with milk, melted butter and molasses. Stir in raisins, sesame seeds and grated carrots. Combine dry ingredients with wet ingredients just until blended. Do not overmix.
Spoon batter (an ice cream scoop works well for this) into 12 muffin cups that have been buttered or lined with paper muffin cups. Bake in a preheat 400 °F (190 °C) oven for 25 min. Cool muffins in pan 5 min. remove muffins and cool on wire rack.