Chunky Home-Style Tomato and Potato Soup
Cheddar Fish Chowder
View more "Soups & Creams" recipes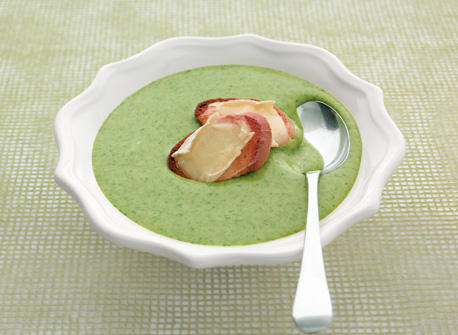 Cream of Potato and Spinach Soup with Brie Croutons
Add to Calendar
10/15/2019 10:00 AM
10/15/2019 11:00 AM
America/New_York
Choose the perfect time to make this recipe
What you'll need:

2 tbsp (30 mL) butter
2 leeks, white and light green part only or onions, chopped
2 celery stalks, chopped
2 carrots, chopped
A pinch of ground nutmeg
3 medium potatoes, peeled and diced (about 3 cups/750 mL)
3 cups (750 mL) chicken broth or vegetable stock
1 pkg (10 oz/300 g) fresh spinach, trimmed
1 cup (250 mL) 35 whipping cream
1 tbsp (15 mL) chopped fresh chives
Salt and freshly ground black pepper, to taste

Brie Croutons (optional):
6 to 8 slices baguette
2 oz (60 g) Canadian Brie, cut into thin slices

Yields: 6 to 8 servings

See full recipe: https://www.dairygoodness.ca/recipes/cream-of-potato-and-spinach-soup-with-brie-croutons?source=calendar
Cream of Potato and Spinach Soup with Brie Croutons
true
MM/DD/YYYY
anvcJoeUXzVEZwIspmZn22961
Course

Soups & Creams

Prep. Time

15 mins

Cooking Time

30 mins

Yields

6 to 8 servings
A delicious and elegant soup that can be a simple first course or the star performer for a light lunch.
Course

Soups & Creams

Prep. Time

15 mins

Cooking Time

30 mins

Yields

6 to 8 servings
---
Ingredients
2
leeks
, white and light green part only or
3
medium potatoes
, peeled and diced (about 3 cups/750 mL)
3 cups
(750 mL)
chicken broth
or
1 pkg
(10 oz/300 g)
fresh spinach
, trimmed
1 cup
(250 mL)
35 whipping cream
1 tbsp
(15 mL) chopped
fresh chives
Salt and freshly ground black pepper
, to taste
Brie Croutons (optional):
2 oz
(60 g)
Canadian Brie
, cut into thin slices
Preparation
In large pot, melt butter over medium heat; cook leeks, celery, carrots and nutmeg, stirring, for about 10 min or until soft. Stir in potatoes and stock; bring to boil. Reduce heat and simmer for about 25 min or until potatoes are tender. Stir in spinach just until wilted.
Transfer to blender in batches and puree until smooth. Return to pot and stir in cream. Heat over low heat just until steaming. Stir in chives and season to taste with salt and pepper.
Brie Croutons:
Toast baguette slices lightly under broiler. Top each slice with a piece of Brie; return to broiler for about 2 min or until cheese is melted and bubbling. Ladle hot soup into bowls and top with Brie Crouton.
Tips
For the Adventurous
For a zippier flavour, add 1 cup (250 mL) chopped watercress or arugula with spinach.
Use Canadian blue cheese instead of Brie on croutons.