Swiss Lemon Poppy Seed Bagels
Tuna and Noodle Bake
View more "Main Dishes" recipes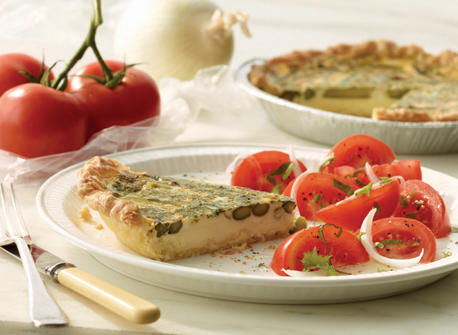 Asparagus and Parmesan Quiche
Add to Calendar
09/21/2019 10:00 AM
09/21/2019 11:00 AM
America/New_York
Choose the perfect time to make this recipe
What you'll need:

1 9 inch (23 cm) deep-dish pie crust, baked
2 tsp (10 mL) Dijon mustard
12 asparagus spears, blanched or thawed if frozen, cut into 1-inch (2.5 cm) pieces
1/3 (75 mL) grated Canadian Parmesan cheese or 3/4 (175 mL) shredded Canadian Cheddar cheese
3 eggs
1 cup (250 mL) milk
1/4 tsp (1 mL) pepper
Dash hot pepper sauce
2 tbsp (30 mL) chopped fresh dill or tarragon

Yields: 6 servings

See full recipe: https://www.dairygoodness.ca/recipes/asparagus-and-parmesan-quiche?source=calendar
Asparagus and Parmesan Quiche
true
MM/DD/YYYY
anvcJoeUXzVEZwIspmZn22961
Course

Main Dishes

Prep. Time

10 mins

Cooking Time

40 mins

Yields

6 servings
Quiche has long been a favourite main course – loved for its ease, versatility and great taste. Cheddar and Broccoli Quiche from 1994 gets a delightful twist with asparagus and the zest of Canadian Parmesan; serve it with your favourite salad.
Course

Main Dishes

Prep. Time

10 mins

Cooking Time

40 mins

Yields

6 servings
---
Ingredients
1
9 inch (23 cm)
deep-dish pie crust
, baked
2 tsp
(10 mL)
Dijon mustard
12
asparagus spears
, blanched or thawed if frozen, cut into 1-inch (2.5 cm) pieces
1/3
(75 mL) grated
Canadian Parmesan cheese
or
3/4
(175 mL) shredded
Canadian Cheddar cheese
2 tbsp
(30 mL) chopped
fresh dill
or
Preparation
Watch the video
Embed Video
Copy and paste this code into your webpage
Ok
Close Video
The asparagus and Parmesan quiche recipe described in this video is both easy and versatile. The Canadian Parmesan cheese, or any other Canadian cheese, is what gives this salty pie the traditional taste we all love. For a tasty, yet unpretentious meal, quiche is always an excellent option. Try it for yourself!
Preheat oven to 350°F (180°C).
Place pie crust on a baking sheet. Brush inside with mustard. Pat asparagus dry and arrange evenly over bottom of crust; sprinkle with cheese.
In a bowl, whisk eggs until slightly foamy; whisk in milk, pepper, hot pepper sauce and dill until blended. Pour over asparagus and cheese.
Bake for about 40 min or until filling is puffed and set and a knife inserted in the centre comes out clean. Let rest for 10 min before serving.
Tips
You can use fresh asparagus and blanch for 2 min in a large pot of boiling salted water, just until bright green, then drain and rinse under cold water, or purchase frozen asparagus spears and just let them thaw. Choose medium-thick spears for the best results.
Add 2 oz (60 g) smoked salmon, chopped, or 1/2 cup (125 mL) chopped cooked shrimp or crab with the asparagus.