Double Chocolate Fudgey Brownies
Yummy Yogurt Pops
View more "Desserts & Sweets" recipes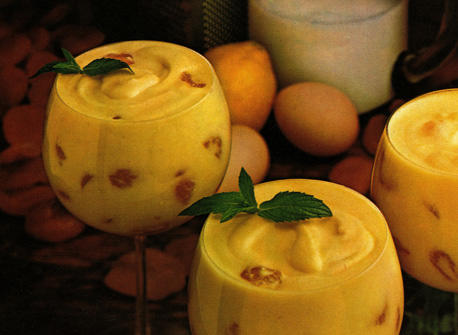 Apricot Bavarian
Add to Calendar
09/16/2019 10:00 AM
09/16/2019 11:00 AM
America/New_York
Choose the perfect time to make this recipe
What you'll need:

1 cup (250 mL) dried apricots
1 1/2 cups (375 mL) water
1/2 cup (125 mL) sugar
Grated rind of one lemon
6 oz (185 g) vanilla pudding mix, (not instant)
2 cups (500 mL) Milk
2 egg yolks
1 pouch (1/4 oz/7 g) of unflavoured gelatin
1/4 cup (60 mL) cold water
2 egg whites
1 cup (250 mL) 35 % cream

Yields: 8 Servings

See full recipe: https://www.dairygoodness.ca/recipes/apricot-bavarian?source=calendar
Apricot Bavarian
true
MM/DD/YYYY
anvcJoeUXzVEZwIspmZn22961
Course

Desserts & Sweets

Prep. Time

15 mins

Cooking Time

15 - 20 mins

Yields

8 Servings
Course

Desserts & Sweets

Prep. Time

15 mins

Cooking Time

15 - 20 mins

Yields

8 Servings
---
Ingredients
1 cup
(250 mL)
dried apricots
1 1/2 cups
(375 mL)
water
6 oz
(185 g)
vanilla pudding mix
, (not instant)
1
pouch (1/4 oz/7 g) of
unflavoured gelatin
1/4 cup
(60 mL) cold
water
1 cup
(250 mL)
35 % cream
Preparation
In a small saucepan combine apricots, water, sugar and lemon rind. Bring to boil; cover and simmer for 15 minutes. Drain syrup and add enough water to make 2 cups (500 mL). Chop apricots coarsely and set aside.
In a medium saucepan blend pudding mix, milk, apricot syrup and egg yolks. Cook over medium heat, stirring constantly, until pudding thickens and comes to a full boil.
Sprinkle gelatin over cold water and let stand until softened; add to hot pudding and stir until dissolved. Add chopped apricots and chill until pudding starts to set.
Beat egg whites until stiff but not dry. Whip cream. Fold egg whites and cream into pudding mixture. Pour into serving dish and chill until firm.