Swiss Lemon Poppy Seed Bagels
Tuna and Noodle Bake
View more "Main Dishes" recipes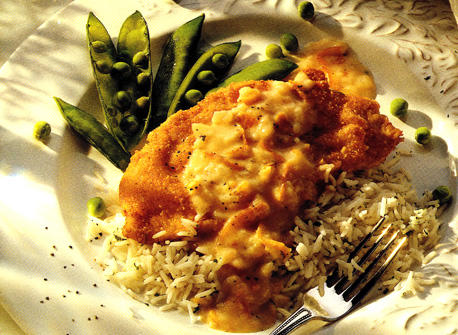 Almond Coated Chicken with Orange Sauce
Add to Calendar
09/20/2019 10:00 AM
09/20/2019 11:00 AM
America/New_York
Choose the perfect time to make this recipe
What you'll need:

6 chicken breast halves, flattened
All-purpose flour, (to coat chicken)
2 eggs, beaten
3 oz (100 g) ground almonds
Butter
1/4 cup (60 mL) chopped onion
2 tbsp (30 mL) all-purpose flour
1/4 tbsp (1 mL) poultry seasoning
1 1/2 cups (375 mL) Milk
1/4 cup (60 mL) orange marmalade
1/2 tsp (2 mL) grated orange zest
1/4 cup (60 mL) orange juice
Salt and pepper, to taste

Yields: 6 servings

See full recipe: https://www.dairygoodness.ca/recipes/Almond-Coated-Chicken-with-Orange-Sauce?source=calendar
Almond Coated Chicken with Orange Sauce
true
MM/DD/YYYY
anvcJoeUXzVEZwIspmZn22961
Course

Main Dishes

Prep. Time

20 mins

Cooking Time

20 mins

Yields

6 servings
Course

Main Dishes

Prep. Time

20 mins

Cooking Time

20 mins

Yields

6 servings
---
Ingredients
6
chicken breast halves
, flattened
All-purpose flour
, (to coat chicken)
3 oz
(100 g)
ground almonds
1/4 cup
(60 mL) chopped
onion
2 tbsp
(30 mL)
all-purpose flour
1/4 tbsp
(1 mL)
poultry seasoning
1/4 cup
(60 mL)
orange marmalade
1/2 tsp
(2 mL) grated
orange zest
1/4 cup
(60 mL)
orange juice
Salt and pepper
, to taste
Preparation
Dip chicken breasts in flour, egg, then almonds.
Melt a small amount of butter in a large nonstick skillet. Sauté coated chicken breasts, part at a time, on both sides until golden and cooked through, adding more butter to pan as needed. Set aside; keep warm.
Melt a little more butter in same skillet. Sauté onion until tender. Blend in 2 tbsp (30 mL) flour and poultry seasoning. Gradually stir in milk. Cook and stir over medium heat until mixture boils and thickens. Remove from heat.
Stir in marmalade, orange rind, orange juice and salt and pepper to taste. To serve pour sauce over chicken breasts.