Swiss Lemon Poppy Seed Bagels
Tuna and Noodle Bake
View more "1995" recipes
Sweet and Sour Meatballs
Add to Calendar
05/22/2018 10:00 AM
05/22/2018 11:00 AM
America/New_York
Choose the perfect time to make this recipe
What you'll need:


Meatballs:
1 lb (450 g) lean ground beef
1 garlic clove, minced
1 egg, lightly beaten
1/4 cup (60 mL) bread crumbs
1/4 cup (60 mL) Milk
1 tsp (5 mL) salt
1/4 tsp (1 mL) pepper

Sweet and Sour Sauce:
1 tbsp (15 mL) vegetable oil
1 garlic clove, minced
1 tbsp (15 mL) fresh ginger, grated or finely chopped
2 cups (500 mL) ketchup
1 cup (250 mL) ginger ale
pinch of hot red chili flakes - optional
3 tbsp (45 mL) sugar
1 tbsp (15 mL) soy sauce
1 cup (250 mL) Milk

Yields: 4 to 6 servings

See full recipe: https://www.dairygoodness.ca/milk/my-milk-calendar/recipes/sweet-and-sour-meatballs?source=calendar
Sweet and Sour Meatballs
true
MM/DD/YYYY
anvcJoeUXzVEZwIspmZn22961
Course

Main Dishes

Prep. Time

10 - 15 mins

Cooking Time

1 hr

Yields

4 to 6 servings
This recipe is featured in the 1995 Milk Calendar.
Course

Main Dishes

Prep. Time

10 - 15 mins

Cooking Time

1 hr

Yields

4 to 6 servings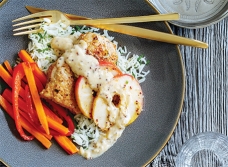 This month's 2018 Milk Calendar featured recipe
Classic Pork with Apples
Get this recipe
Watch video
---
Ingredients
Meatballs:
1 lb
(450 g)
lean ground beef
1/4 cup
(60 mL)
bread crumbs
Sweet and Sour Sauce:
1 tbsp
(15 mL)
vegetable oil
1 tbsp
(15 mL)
fresh ginger
, grated or finely chopped
1 cup
(250 mL)
ginger ale
pinch
of
hot red chili flakes - optional
Preparation
Meatballs:
Combine ground beef with garlic, egg, bread crumbs, milk, salt and pepper. Shape into 1-inch (2 1/2 cm) balls. Reserve.

Sweet and Sour Sauce:
Heat oil in large saucepan. Add garlic and ginger. Cook 1 to 2 min until fragrant but don't brown. Add ketchup, ginger ale, hot chili flakes, sugar and soy sauce. Bring to a boil. Add milk. Heat thoroughly. Sauce may look separated.
Bring sauce to a boil and add meatballs. Reduce heat. Cook gently, uncovered, for 1 hr until meatballs are tender and sauce is thick. Serve over rice.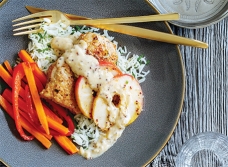 This month's 2018 Milk Calendar featured recipe
Classic Pork with Apples
Get this recipe
Watch video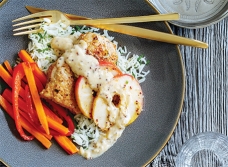 This month's 2018 Milk Calendar featured recipe
Classic Pork with Apples
Get this recipe
Watch video