Swiss Lemon Poppy Seed Bagels
Tuna and Noodle Bake
View more "1983" recipes
Poached Fish Parmesan
Add to Calendar
01/24/2018 10:00 AM
01/24/2018 11:00 AM
America/New_York
Choose the perfect time to make this recipe
What you'll need:

1 1/4 lbs (560 g) fillets of sole or turbot or haddock
2 cups (500 mL) Milk
3 tbsp (45 mL) butter
3 tbsp (45 mL) all-purpose flour
1/2 cup (125 mL) dry white wine
1/2 cup (125 mL) grated Canadian Parmesan Cheese
2 tbsp (30 mL) chopped fresh chives or green onions
Salt and pepper, to taste
1 red or green bell pepper, thinly sliced
1 lb (450 g) fettuccine or broad egg noodles

Yields: 4 servings

See full recipe: https://www.dairygoodness.ca/milk/my-milk-calendar/recipes/poached-fish-parmesan?source=calendar
Poached Fish Parmesan
true
MM/DD/YYYY
anvcJoeUXzVEZwIspmZn22961
Course

Main Dishes

Prep. Time

15 mins

Cooking Time

25 mins

Yields

4 servings
This recipe is featured in the 1983 Milk Calendar. Recharge your energy level after exercise with this quick and delicious dinner.
Course

Main Dishes

Prep. Time

15 mins

Cooking Time

25 mins

Yields

4 servings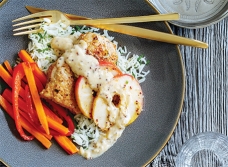 This month's 2018 Milk Calendar featured recipe
Classic Pork with Apples
Get this recipe
Watch video
---
Ingredients
1 1/4 lbs
(560 g) fillets of
sole
or
3 tbsp
(45 mL)
all-purpose flour
1/2 cup
(125 mL)
dry white wine
1/2 cup
(125 mL) grated
Canadian Parmesan Cheese
2 tbsp
(30 mL) chopped
fresh chives
or
Salt and pepper
, to taste
1
red or green
bell pepper
, thinly sliced
1 lb
(450 g)
fettuccine
or
Preparation
Cut fillets into serving size portions.
In a large covered skillet, simmer fillets gently in milk for 5 to 10 min, or until fish flakes easily with a fork.
Carefully transfer fish to a platter and keep warm; reserve milk.
Melt butter in a medium saucepan; add flour and cook for 2 min. Gradually add reserved hot milk; cook over low heat, stirring constantly, until thickened. Add white wine, Parmesan cheese, chives, salt, pepper and red or green bell pepper; heat an additional 10 min.
Meanwhile, cook fettuccine in boiling, salted water until al dente; drain.
Arrange fish and sauce over pasta.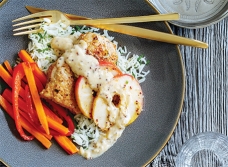 This month's 2018 Milk Calendar featured recipe
Classic Pork with Apples
Get this recipe
Watch video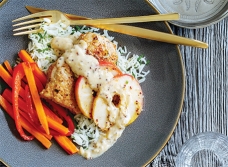 This month's 2018 Milk Calendar featured recipe
Classic Pork with Apples
Get this recipe
Watch video