Double Chocolate Fudgey Brownies
Yummy Yogurt Pops
View more "1994" recipes
Baked Apple Cinnamon Pancake
Add to Calendar
04/20/2018 10:00 AM
04/20/2018 11:00 AM
America/New_York
Choose the perfect time to make this recipe
What you'll need:


Cooked Apples:
4 cooking apples, (Golden Delicious, Spy, Empire or Cortland) peeled, cored and thinly sliced
1/4 cup (60 mL) butter
1/2 cup (125 mL) brown sugar, packed
1 tsp (5 mL) ground cinnamon

Pancake Batter:
6 eggs
1 cup (250 mL) all-purpose flour
1 cup (250 mL) Milk
3 tbsp (45 mL) sugar
1/4 cup (60 mL) butter, melted

Garnish:
2 tbsp (30 mL) icing sugar, sifted

Yields: 6 to 8 servings

See full recipe: https://www.dairygoodness.ca/milk/my-milk-calendar/recipes/baked-apple-cinnamon-pancake?source=calendar
Baked Apple Cinnamon Pancake
true
MM/DD/YYYY
anvcJoeUXzVEZwIspmZn22961
Course

Desserts & Sweets

Prep. Time

20 mins

Cooking Time

25 mins

Yields

6 to 8 servings
This recipe is featured in the 1994 Milk Calendar. A perfect dish for brunch. Everyone will love it. Serve it with maple syrup!

Course

Desserts & Sweets

Prep. Time

20 mins

Cooking Time

25 mins

Yields

6 to 8 servings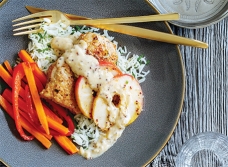 This month's 2018 Milk Calendar featured recipe
Classic Pork with Apples
Get this recipe
Watch video
---
Ingredients
Cooked Apples:
4
cooking apples
, (Golden Delicious, Spy, Empire or Cortland) peeled, cored and thinly sliced
1/2 cup
(125 mL)
brown sugar
, packed
1 tsp
(5 mL)
ground cinnamon
Pancake Batter:
1 cup
(250 mL)
all-purpose flour
1/4 cup
(60 mL)
butter
, melted
Garnish:
2 tbsp
(30 mL)
icing sugar
, sifted
Preparation
Cooked Apples:
Melt 1/4 cup (60 mL) butter in a 12-inch (30 cm) non-stick skillet. Add apples to pan and sprinkle with brown sugar and cinnamon. Cook for 10 min or until apples are very tender and any liquid in pan has evaporated. (If skillet is not ovenproof, transfer apples to a 9 x 13-inch (23 x 33 cm) baking dish.)
Pancake Batter:
Meanwhile, in a blender, food processor or with a whisk, blend the eggs with flour, milk, sugar and melted butter. Blend until smooth. Pour batter over the cooked apples.
Bake in a preheated 425 °F (220 °C) oven for 25 min until browned and puffed.
Serve from pan or invert onto a serving platter. Sprinkle with icing sugar. Serve in wedges.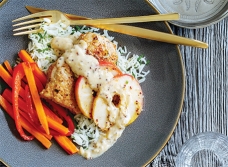 This month's 2018 Milk Calendar featured recipe
Classic Pork with Apples
Get this recipe
Watch video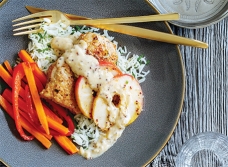 This month's 2018 Milk Calendar featured recipe
Classic Pork with Apples
Get this recipe
Watch video