Discover new family favourites.
Delicious meals make for delicious moments with friends and family. Put milk in the mix and make everyone's day, today. Explore the recipes, watch the videos, and discover great tips.
October
Homestyle Lemon Cauliflower Orecchiette
It's time to nestle in for fall. Pull up your favourite blanket, tune in to your favourite show, and indulge in this pasta with a tasty new twist.
Prep. Time:

15 mins

Cooking Time:

20 mins
November
Everyone's Milk Pudding
With winter on its way, it's time to sweeten things up. These simple, personalized puddings are a beautiful way to please everyone's palate.
Prep. Time:

10 mins

Cooking Time:

10 mins

Refrigeration Time:

4 hrs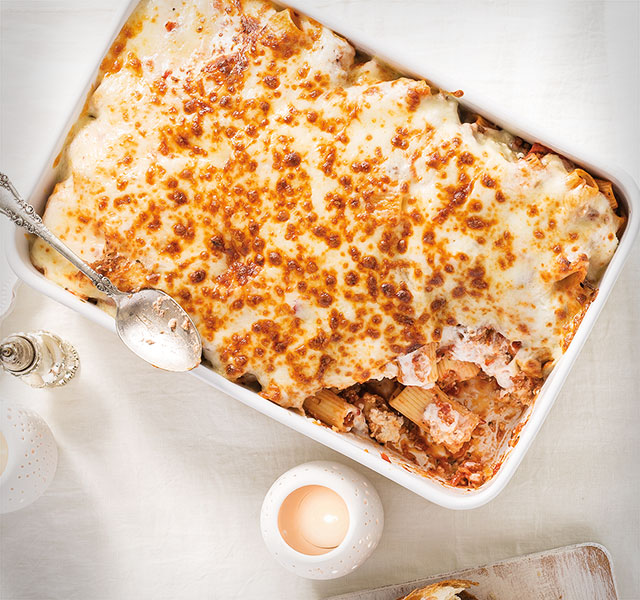 December
Rigatoni di Casa
What better way to appeal to everyone's healthy appetite than with this easy-to-make, delicious dish they'll be asking you to make again and again.
Prep. Time:

25 mins

Cooking Time:

27 mins
Past recipes from this year's calendar
December 2015
Sautéed Brussels Sprouts with Bacon
Sprout some joy this holiday season with this ideal dinner side dish. It's as perfect for impressing guests as it is for enjoying with your family mid-week.
Prep. Time:

15 mins

Cooking Time:

18 mins
January
Comforting Chicken Tamale Pie
During those cold winter days, there's nothing better than a piping hot dinner to keep everyone cozy. This ultra-comfort food needs just one taste to become an instant winter classic.
Prep. Time:

10 mins

Cooking Time:

30 mins
February
Sweet Potato & Lentil Soup
Take your taste buds on an adventure with this exotic, hearty recipe. This savoury soup is the perfect way to warm up your loved ones as the frost starts to melt.
Prep. Time:

15 mins

Cooking Time:

20 mins
March
Spanish Chicken and Rice Supper
Make Sunday night more than all right. The whole family will gather around this one-pan dish filled with so much deliciousness. As an added bonus, it makes clean-up a breeze!
Prep. Time:

15 mins

Cooking Time:

30 mins
April
Family Night Pizza
Mamma mia! This easy white sauce pizza is real winner for dinner or even lunch. It's sure to have the whole family gathered at the table faster than you can say, buon appetito!
Prep. Time:

20 mins

Cooking Time:

20 mins
May
Green Goodness Smoothie Bowl
Get up and go in the morning with this super smoothie. It's a fresh and delightful way to greet the day and kick it off on the right foot.
June
Fresh Pesto Beans & Greens Orzo
Make eating your greens and beans more enjoyable than ever, with pesto! It's the ideal way to start your summer with this garden-fresh recipe that you can make in no time flat.
Prep. Time:

15 mins

Cooking Time:

15 mins
July
Tasty Fruit Ice Pops
Beat the summer heat with this frozen tropical treat the whole family will love. Make the most of tasty seasonal fruit while they're still around.
Prep. Time:

10 mins

Freezing Time:

4 hrs
August
Mango & Quinoa Wraps
Life's a picnic with this easy-to-make recipe. Wrap up the end of summer with this perfect meal for families on the go.
Prep. Time:

15 mins

Cooking Time:

20 mins
September
Weeknight Tuna Melt Potatoes
Get back to school and back to comfort food. Fall is on its way and this hot and tasty meal will get an A+ in everyone's book. Serve with a salad on the side and dinner is ready.
Prep. Time:

10 mins

Cooking Time:

28 - 35 mins
Want more great recipes?
Discover inspired meal ideas from last year's Milk Calendar.