---
View more articles in "Good Times"
Breakfast in Bed – Tips to Get It Right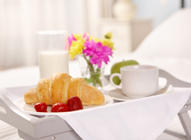 Whether for Valentine's Day, Mother's Day, a Birthday or just to make someone's day a little brighter, breakfast in bed is a great way to make any morning special. Treat someone close to you to a little pampering and surprise them with a catered meal prepared with love.
Planning and preparing the meal
Serving breakfast in bed successfully depends largely on how well you plan. What you choose to serve and how you present it are important considerations when planning your special meal.
When it comes to choosing your menu, the best advice is to keep things simple. Eating in bed can be challenging and no one likes to get their bed all sticky or full of crumbs. Choose foods that can be easily consumed without the need for too much cutlery or assembly and avoid foods that are overly syrupy, drippy or crumbly.
Here are a few recipes you can try.
If you have children remember to let them in on the fun. They love to help and they will pride themselves in knowing that they played a part. Depending on their age and skill level, children may help by preparing toasts, peeling fruit or getting the juice poured. The important thing isn't so much what they do but that they feel included.
Adding a personal touch
Make the moment memorable with little personal touches. Homemade items like a card, placemats, menu or even a paper flower. A personal project made with love is something that anyone will cherish and appreciate.
For something simpler, including a personal item like a favourite book, newspaper or movie to accompany the meal is another thoughtful way to show you care.
Serving the meal
When serving the meal to your special someone, make sure they are seated comfortably and upright with a few sturdy pillows behind them. Providing a good firm tray or side table will also make eating far more enjoyable and practical. If neither can be found at hand then a large kitchen towel or folded sheet spread out over the person's lap will help keep the bed clean at least.
Wrapping up
With the surprise sprung and the meal served, make sure your breakfast in bed includes cleaning up after yourself. Nothing would spoil the moment more than leaving your special someone with dirty dishes and a messy kitchen to clean.
Popular Good Life Keywords