---
Good Health
With a busy schedule, it's not always easy to make smart choices or to stay in shape. Find out how milk products and better habits can lead you to good health.
Featured Article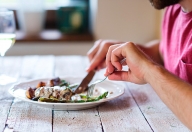 Eating mindfully is a technique that aims to help us focus on what we're eating and how full we're feeling.
Read more
Popular Articles
Eating well also means listening to the signals your body sends out.

Read more

Eating in a healthy way doesn't mean depriving yourself, but rather finding balance and pleasure in the foods you love.

Read more

It's 3 p.m. and you are hungry. Do you know where your healthy snack is? Here are 5 tips to help you reach for healthier snacks. 

Read more
Popular Good Health Keywords
Featured Topics
Good nutrition is good for you, and your family. Learn how to eat well with Canada's Food Guide and adopt healthy habits the whole family will love.

View articles

Wondering if you have a healthy lifestyle? Learn more about the role that milk products could play in achieving and maintaining a healthy weight.

View articles

Did you know that 100% Canadian milk is one of the safest and most tested foods in the country? Get the full story on this and other misconceptions around hormones, antibiotics and more.

View articles
Stay Connected
Discover even more articles, contests, and delicious recipes for your whole family.
---