Embed Video
Copy and paste this code into your webpage
Ok
Serving Sizes & Tips
Canada's Food Guide recommends that all Canadians should consume from two to four servings of Milk and Alternatives every day, according to their age group.
Recommended Servings of Milk and Alternatives
How much is a serving?
Milk 250 mL (1 cup)
All types of milk—whether it's skim, 1%, 2% or 3.25% milk fat—essentially provide the same quantity of vitamins and minerals.
Chocolate Milk 250 mL (1 cup)
Mix chocolate milk with white milk for less sugar.
Pudding or Flan made with milk 125 mL (½ cup)
A pudding or flan made with milk can be a pleasant and nutritious way to finish a meal.
Buttermilk 250 mL (1 cup)
Buttermilk has a tangy taste and a rich, smooth texture. A "culture" has been added to enhance its flavour and consistency.
Kefir 175 mL (¾ cup)
Discovered many years ago, kefir is cultured milk to which beneficial bacteria has been added.
---
Tips for getting enough milk
Add milk to your soups, smoothies, flans, pancakes or pasta sauces. Whether hot and cold, a meal with milk is always delicious.
Start your day with a delicious fruit smoothie made with milk or yogurt.
Be sure to add 250 mL (1 cup) of milk to your cereal.
When preparing oatmeal, replace the water with milk.
Swap your regular coffee for a café latté, since the hint of milk you might add to regular coffee is far from the recommended serving of 250 mL (1 cup).
Replace the juice box or soft drink with 250 mL (1 cup) of plain milk.
Enjoy a quick vegetable soup: simply purée cooked vegetables, add milk, seasonings and heat.
For dessert, enjoy a vanilla or rice pudding prepared with milk, or a homemade muffin with a 250 mL (1 cup) glass of milk.
Drink 250 mL (1 cup) of hot milk flavoured with cinnamon, or infused with your favourite herbal or regular tea.
View recipes with milk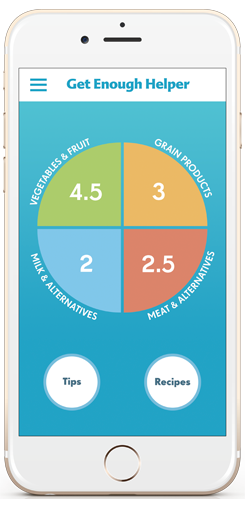 The Get Enough Helper App
Find out if you're getting enough of what you need every day.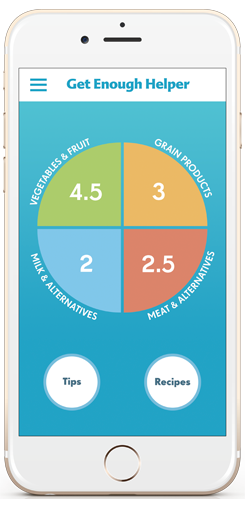 Learn

more
Apple, the Apple logo and iPhone are trademarks of Apple Inc., registered in the U.S. and other countries. App Store is a service mark of Apple Inc.