---
Canadian Cheese Repertoire
Explore the world of Canadian cheese – made from 100% Canadian milk. From Blue cheese to Tomme, our Canadian Cheese Repertoire showcases irresistible cheeses for every taste.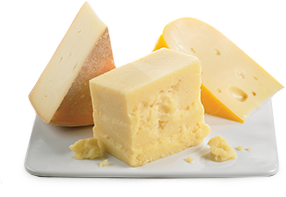 Blue
Many Blue cheeses were originally produced in caves, where mold was naturally present, and therefore imparted its blue-green colour to the cheese. Thankfully, someone decided to sample what others...
Semi-soft
The vast variety and versatility of Canadian Semi-soft cheeses make them perfect for those just discovering and developing a taste for cheese, as well as for the adventurous and experienced cheese...
Gay Lea Foods Co-Operative Ltd. - Ivanhoe
Ivanhoe Cheese has been perfecting the way cheese is made for over a century. Created as a small dairy co-operative in 1870 that specialized in making artisanal Aged Cheddar, it has now joined...