---
Canadian Cheese Repertoire
Explore the world of Canadian cheese – made from 100% Canadian milk. From Blue cheese to Tomme, our Canadian Cheese Repertoire showcases irresistible cheeses for every taste.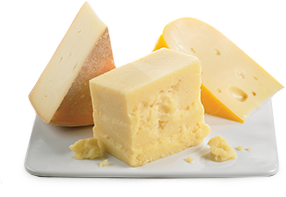 Cheddar
The ambassador for Canadian excellence in cheeses - from snack to macaroni and cheese, Cheddar is versatile, delicious and one of the most popular-selling cheeses in the world.
Hard
Did you know Canadian Parmesan is covered with one very hard rind. How hard? According to both cheese and ballistics experts, it is practically bulletproof!
Laiterie Charlevoix Inc.
Founded in 1948 by Elmina Fortin and Stanislas Labbé, the Laiterie Charlevoix is still owned by the Labbé family. In fact, their great-grandchildren are the 4th generation to work in the...