---
Canadian Cheese Repertoire
Explore the world of Canadian cheese – made from 100% Canadian milk. From Blue cheese to Tomme, our Canadian Cheese Repertoire showcases irresistible cheeses for every taste.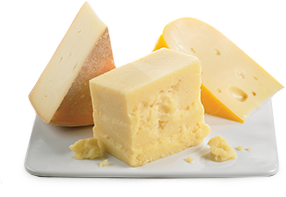 Gouda
Apparently, Cheese makers judge the quality of a wheel of Gouda by the sound made when struck with the index finger. If it makes the same sound a plank would, it is perfect!
Semi-soft
The vast variety and versatility of Canadian Semi-soft cheeses make them perfect for those just discovering and developing a taste for cheese, as well as for the adventurous and experienced cheese...
Gay Lea Foods Co-Operative Ltd. - Ivanhoe
Ivanhoe Cheese has been perfecting the way cheese is made for over a century. Created as a small dairy co-operative in 1870 that specialized in making artisanal Aged Cheddar, it has now joined...