---
Canadian Cheese Repertoire
Explore the world of Canadian cheese – made from 100% Canadian milk. From Blue cheese to Tomme, our Canadian Cheese Repertoire showcases irresistible cheeses for every taste.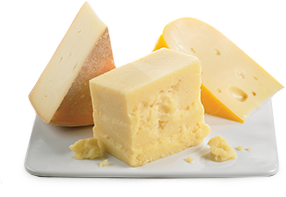 Feta
A classic cheese that has been produced since ancient times. The word "feta" means "slice", and derives from the practice of cutting the cheese into slices before storing it in barrels of salty...
Fresh
While the word "fresh" refers to a mode of manufacturing, it could equally be used to describe the taste and texture of Fresh cheeses.
Empire Cheese And Butter Co-Operative
Empire Cheese & Butter Co-op is the only cheese manufacturing plant operating in Northumberland County, and the first one east of Toronto! It is owned by local dairy farmers who hold an...