---
Canadian Cheese Repertoire
Explore the world of Canadian cheese – made from 100% Canadian milk. From Blue cheese to Tomme, our Canadian Cheese Repertoire showcases irresistible cheeses for every taste.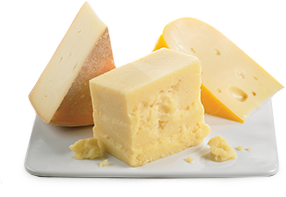 Halloumi
Halloumi, derived from the Greek word "almi", meaning "salty", is a unique cheese. It has impressive heat tolerance, and this higher-than-normal resistance to melting, makes it a perfect cheese...
Hard
Did you know Canadian Parmesan is covered with one very hard rind. How hard? According to both cheese and ballistics experts, it is practically bulletproof!
International Cheese - Santa Lucia
Started 50 years ago on little more than a dream, some family recipes and the will to create the finest handcrafted cheeses, the family-owned Santa Lucia line has earned a glowing reputation and a...