---
Canadian Cheese Repertoire
Explore the world of Canadian cheese – made from 100% Canadian milk. From Blue cheese to Tomme, our Canadian Cheese Repertoire showcases irresistible cheeses for every taste.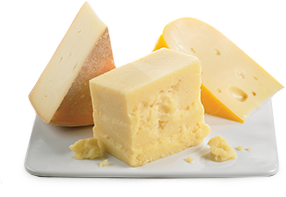 Blend
Combining 2 or more cheeses together results in a new class or family of cheese known as a Blend. In a Blend, the individual characters of each cheese are present, yet they also unite to create...
Hard
Did you know Canadian Parmesan is covered with one very hard rind. How hard? According to both cheese and ballistics experts, it is practically bulletproof!
Fromagerie du Presbytère
The Fromagerie du Presbytère is located in what was the former church rectory or clergy house, and the name of this cheese maker is a nod to this 1936 heritage building that was once central to...