---
Canadian Cheese Repertoire
Explore the world of Canadian cheese – made from 100% Canadian milk. From Blue cheese to Tomme, our Canadian Cheese Repertoire showcases irresistible cheeses for every taste.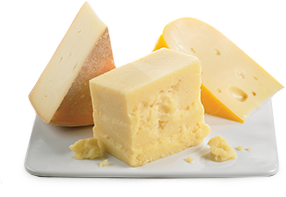 Mozzarella
Mozzarella is a rindless, Semi-soft pasta filata cheese. The name comes from the Italian verb "mozzare", which means "to cut".
Semi-soft
The vast variety and versatility of Canadian Semi-soft cheeses make them perfect for those just discovering and developing a taste for cheese, as well as for the adventurous and experienced cheese...
Terroir Cheese Ltd.
Located in the North Okanagan/Shuswap area of British Columbia, Terroir Cheese is a producer of premium local artisan cheese.