---
Canadian Cheese Repertoire
Explore the world of Canadian cheese – made from 100% Canadian milk. From Blue cheese to Tomme, our Canadian Cheese Repertoire showcases irresistible cheeses for every taste.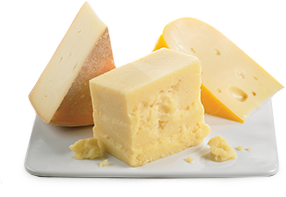 Swiss
The "eyes" or holes in Swiss, which fascinate children, sometimes ooze with some of the cheese's oils. This process, along with adding to the cheese's interest, is a sure sign of freshness.
Hard
Did you know Canadian Parmesan is covered with one very hard rind. How hard? According to both cheese and ballistics experts, it is practically bulletproof!
Fromagerie La Chaudière
The Fromagerie La Chaudière offers healthy, high-quality products, and uses methods of manufacturing that are environmentally friendly and promote sustainable development.