---
Canadian Cheese Repertoire
Explore the world of Canadian cheese – made from 100% Canadian milk. From Blue cheese to Tomme, our Canadian Cheese Repertoire showcases irresistible cheeses for every taste.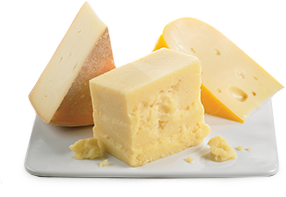 Swiss
The "eyes" or holes in Swiss, which fascinate children, sometimes ooze with some of the cheese's oils. This process, along with adding to the cheese's interest, is a sure sign of freshness.
Firm
Ever wonder where the holes or "eyes" come from in Canadian Swiss? As these Firm cheeses ripen, they release propionic gases which become trapped in pockets. And that, for all you inquiring cheese...
Kootenay Meadows
Towering over their pastures is the magnificent Thomson Mountain range, and its alpine meadows and forested slopes maintain a sentinel over this dairy farm. Kootenay Meadows unique cheese is...