---
Canadian Cheese Repertoire
Explore the world of Canadian cheese – made from 100% Canadian milk. From Blue cheese to Tomme, our Canadian Cheese Repertoire showcases irresistible cheeses for every taste.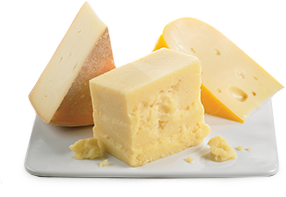 Cottage
An authentically North American cheese, Cottage cheese is refreshing, usually velvety in texture and has the wholesome and slightly sweet taste of milk.
Semi-soft
The vast variety and versatility of Canadian Semi-soft cheeses make them perfect for those just discovering and developing a taste for cheese, as well as for the adventurous and experienced cheese...
Jolly Farmer
Operating a small and mixed farm on rolling hillsides in the Saint John River Valley area of New Brunswick, all Jolly Farmer cheese is made with unpasteurized milk from their own herd of Brown...