---
Canadian Cheese Repertoire
Explore the world of Canadian cheese – made from 100% Canadian milk. From Blue cheese to Tomme, our Canadian Cheese Repertoire showcases irresistible cheeses for every taste.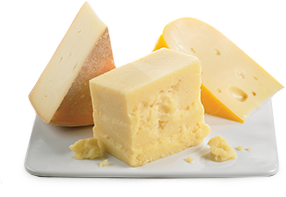 Provolone
It has a pale to golden-rind, and comes in various forms, though the squat pear-shape is the most recognizable.
Soft
Soft cheeses are known for their lush texture, smooth and creamy flavour, and interiors that are not pressed nor cooked.
Fromagerie P'tit Plaisir
The Fromagerie P'tit Plaisir in St-Gérard is a family-run business that maintains an atmosphere of warmth and friendliness. Their enterprise is a true model of self-sufficiency, passion for...