---
Canadian Cheese Repertoire
Explore the world of Canadian cheese – made from 100% Canadian milk. From Blue cheese to Tomme, our Canadian Cheese Repertoire showcases irresistible cheeses for every taste.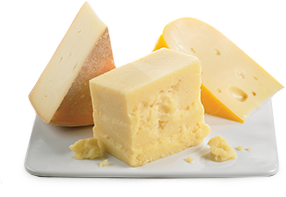 Parmesan
The most popular Canadian Hard cheese is Parmesan. Given its taste and versatility, this is not a surprise, but did you know that Canadian Parmesan is covered with one very hard rind. How hard?...
Semi-soft
The vast variety and versatility of Canadian Semi-soft cheeses make them perfect for those just discovering and developing a taste for cheese, as well as for the adventurous and experienced cheese...
Fromagerie Boivin
Fromagerie Boivin was founded in 1939 by the Boivin family. At that time the demand was for Aged Cheddar destined for export. Today the family business is run by third and fourth generations who...