---
Canadian Cheese Repertoire
Explore the world of Canadian cheese – made from 100% Canadian milk. From Blue cheese to Tomme, our Canadian Cheese Repertoire showcases irresistible cheeses for every taste.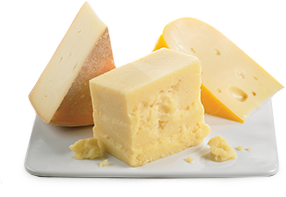 Camembert
Young Camembert has a milky taste with sweet hints. As it matures, it forms the bloomy white rind and smooth interior that is typical to Camembert.
Firm
Ever wonder where the holes or "eyes" come from in Canadian Swiss? As these Firm cheeses ripen, they release propionic gases which become trapped in pockets. And that, for all you inquiring cheese...
Empire Cheese And Butter Co-Operative
Empire Cheese & Butter Co-op is the only cheese manufacturing plant operating in Northumberland County, and the first one east of Toronto! It is owned by local dairy farmers who hold an...