---
Canadian Cheese Repertoire
Explore the world of Canadian cheese – made from 100% Canadian milk. From Blue cheese to Tomme, our Canadian Cheese Repertoire showcases irresistible cheeses for every taste.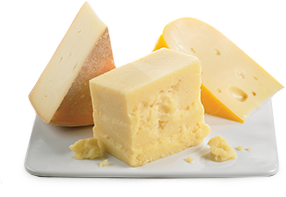 Tomme
Tomme is a magnificent way to introduce the beginner to cheeses with more complexity and character, but all cheese enthusiasts will enjoy Tomme.
Soft
Soft cheeses are known for their lush texture, smooth and creamy flavour, and interiors that are not pressed nor cooked.
Grandpa's Dairy Produce Inc.
Grandpa's Dairy Produce is a 5-year-old company that produces different types of Queso Fresco – a traditional Latin American cheese. Ernesto Restrepo, cheese maker and co-owner, has been...