---
Canadian Cheese Repertoire
Explore the world of Canadian cheese – made from 100% Canadian milk. From Blue cheese to Tomme, our Canadian Cheese Repertoire showcases irresistible cheeses for every taste.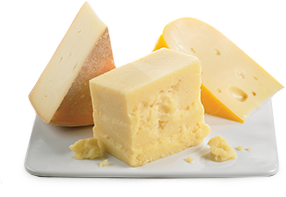 Queso Fresco
Queso Fresco, sometimes called Queso Blanco, is a white, slightly salty cheese used in Mexican cuisine, that means "fresh cheese".
Semi-soft
The vast variety and versatility of Canadian Semi-soft cheeses make them perfect for those just discovering and developing a taste for cheese, as well as for the adventurous and experienced cheese...
Smits & Co.w Farm Cheese
Smits & Co.w is a small, family-owned and operated farm and cheese making business. They use traditional methods and milk from their own mixed herd of Holstein and Brown Swiss cows to produce...