---
Canadian Cheese Repertoire
Explore the world of Canadian cheese – made from 100% Canadian milk. From Blue cheese to Tomme, our Canadian Cheese Repertoire showcases irresistible cheeses for every taste.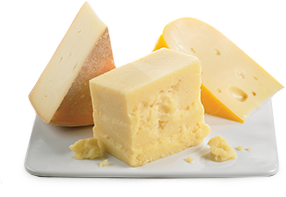 Provolone
It has a pale to golden-rind, and comes in various forms, though the squat pear-shape is the most recognizable.
Fresh
While the word "fresh" refers to a mode of manufacturing, it could equally be used to describe the taste and texture of Fresh cheeses.
Paradise Island
Established in 1978, Paradise Island Foods is a family-run business located in Nanaimo, British Columbia. Founded by George Thomson, it began as a one-man operation, warehousing confectionery and...