---
Canadian Cheese Repertoire
Explore the world of Canadian cheese – made from 100% Canadian milk. From Blue cheese to Tomme, our Canadian Cheese Repertoire showcases irresistible cheeses for every taste.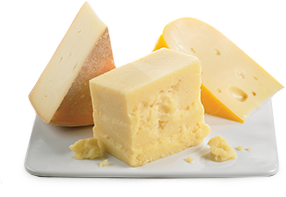 Edam
Traditionally sold in spheres and wrapped in red or yellow paraffin wax, this pale yellow cheese with the mellow taste is a great all-purpose cheese sure to please all!
Hard
Did you know Canadian Parmesan is covered with one very hard rind. How hard? According to both cheese and ballistics experts, it is practically bulletproof!
Gunn's Hill Artisan Cheese
Gunn's Hill Artisan Cheese is a small artisan cheese plant nestled within the rolling hills of Gunn's Hill Rd. in Oxford County, Ontario. The cheeses produced at Gunn's Hill are truly unique,...