---
Canadian Cheese Repertoire
Explore the world of Canadian cheese – made from 100% Canadian milk. From Blue cheese to Tomme, our Canadian Cheese Repertoire showcases irresistible cheeses for every taste.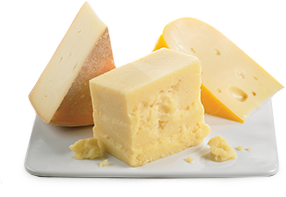 Cottage
An authentically North American cheese, Cottage cheese is refreshing, usually velvety in texture and has the wholesome and slightly sweet taste of milk.
Semi-soft
The vast variety and versatility of Canadian Semi-soft cheeses make them perfect for those just discovering and developing a taste for cheese, as well as for the adventurous and experienced cheese...
Les Fromages de l'isle d'Orléans
The first cheese in America was made in 1635 on Île d'Orléans by French colonists. The recipe passed from generation to generation for centuries, but vanished from the market for more than 40...