---
Canadian Cheese Repertoire
Explore the world of Canadian cheese – made from 100% Canadian milk. From Blue cheese to Tomme, our Canadian Cheese Repertoire showcases irresistible cheeses for every taste.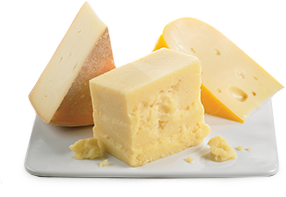 Mascarpone
Making this cheese is apparently so simple that many people prepare their own Mascarpone at home. This buttery-rich and creamy cheese is great simply topped with fruit or embellished by other...
Firm
Ever wonder where the holes or "eyes" come from in Canadian Swiss? As these Firm cheeses ripen, they release propionic gases which become trapped in pockets. And that, for all you inquiring cheese...
Fromagerie Perron
Built on high-quality standards, the mission of the Fromagerie Perron has always been about producing exceptional cheeses. Founded by Adélard Perron in 1890, and currently presided over by...