---
Canadian Cheese Repertoire
Explore the world of Canadian cheese – made from 100% Canadian milk. From Blue cheese to Tomme, our Canadian Cheese Repertoire showcases irresistible cheeses for every taste.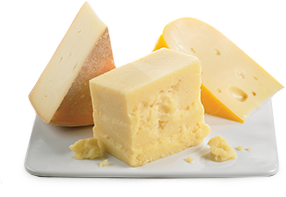 Saint-Paulin
From the family of cheeses originally made by trappist monks, comes the delicious, melt-in-your-mouth Saint-Paulin, which is similar to Noyan .
Soft
Soft cheeses are known for their lush texture, smooth and creamy flavour, and interiors that are not pressed nor cooked.
Fromagerie Fritz Kaiser
Founded in 1981 by Mr. Fritz Kaiser, the fromagerie is situated in Noyan, Quebec, close to the New York State border. Fromagerie Fritz Kaiser specializes in the production of washed, bloomy and...