---
Canadian Cheese Repertoire
Explore the world of Canadian cheese – made from 100% Canadian milk. From Blue cheese to Tomme, our Canadian Cheese Repertoire showcases irresistible cheeses for every taste.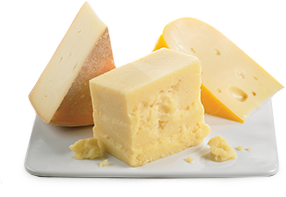 Brie
This classic Soft cheese usually disappears rapidly from a cheese platter. The velvety texture makes it easy to spread or melt, and the buttery taste allows it to mix well with other ingredients....
Hard
Did you know Canadian Parmesan is covered with one very hard rind. How hard? According to both cheese and ballistics experts, it is practically bulletproof!
Thornloe Cheese
Thornloe Cheese is a farmer-owned plant that has produced outstanding Cheddar and Curds for nearly 70 years. Their secret is old-fashioned cheese making techniques, and the fresh milk produced in...