---
Canadian Cheese Repertoire
Explore the world of Canadian cheese – made from 100% Canadian milk. From Blue cheese to Tomme, our Canadian Cheese Repertoire showcases irresistible cheeses for every taste.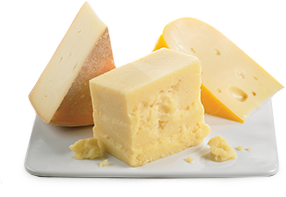 Saint-Paulin
From the family of cheeses originally made by trappist monks, comes the delicious, melt-in-your-mouth Saint-Paulin, which is similar to Noyan .
Hard
Did you know Canadian Parmesan is covered with one very hard rind. How hard? According to both cheese and ballistics experts, it is practically bulletproof!
Black River Cheese Company Ltd.
Black River Cheese has been firmly rooted in Prince Edward County, Ontario, since 1901. Situated along the banks of the picturesque Black River, it remains dedicated to preserving more than a...