---
Canadian Cheese Repertoire
Explore the world of Canadian cheese – made from 100% Canadian milk. From Blue cheese to Tomme, our Canadian Cheese Repertoire showcases irresistible cheeses for every taste.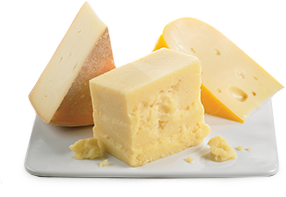 Mascarpone
Making this cheese is apparently so simple that many people prepare their own Mascarpone at home. This buttery-rich and creamy cheese is great simply topped with fruit or embellished by other...
Semi-soft
The vast variety and versatility of Canadian Semi-soft cheeses make them perfect for those just discovering and developing a taste for cheese, as well as for the adventurous and experienced cheese...
Poplar Grove Cheese
Poplar Grove Cheese, located on the beautiful Naramata Bench in the Okanagan Valley, was started in 2002. The owner, Gitta Pendersen, was raised on a family dairy farm in Denmark.