---
Canadian Cheese Repertoire
Explore the world of Canadian cheese – made from 100% Canadian milk. From Blue cheese to Tomme, our Canadian Cheese Repertoire showcases irresistible cheeses for every taste.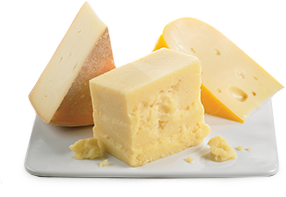 Raclette
The word Raclette comes from the French "racler", which means "to scrape". Of Swiss origin, Raclette is both the name of a cheese and a dish, where melted Raclette tops boiled potatoes, bread and...
Firm
Ever wonder where the holes or "eyes" come from in Canadian Swiss? As these Firm cheeses ripen, they release propionic gases which become trapped in pockets. And that, for all you inquiring cheese...
Bothwell Cheese
Bothwell Cheese, situated in the heart of Manitoba's dairy belt in New Bothwell, has been producing quality cheese since 1936. Made with fresh, locally-produced milk, you can still taste the...