---
Canadian Cheese Repertoire
Explore the world of Canadian cheese – made from 100% Canadian milk. From Blue cheese to Tomme, our Canadian Cheese Repertoire showcases irresistible cheeses for every taste.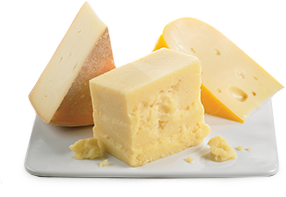 Blend
Combining 2 or more cheeses together results in a new class or family of cheese known as a Blend. In a Blend, the individual characters of each cheese are present, yet they also unite to create...
Fresh
While the word "fresh" refers to a mode of manufacturing, it could equally be used to describe the taste and texture of Fresh cheeses.
Black River Cheese Company Ltd.
Black River Cheese has been firmly rooted in Prince Edward County, Ontario, since 1901. Situated along the banks of the picturesque Black River, it remains dedicated to preserving more than a...