---
Canadian Cheese Repertoire
Explore the world of Canadian cheese – made from 100% Canadian milk. From Blue cheese to Tomme, our Canadian Cheese Repertoire showcases irresistible cheeses for every taste.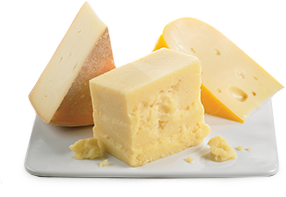 Havarti
Canadian Havarti adds to the reputation of this cheese, and has enough character to seduce even the most discerning taste buds.
Semi-soft
The vast variety and versatility of Canadian Semi-soft cheeses make them perfect for those just discovering and developing a taste for cheese, as well as for the adventurous and experienced cheese...
Bothwell Cheese
Bothwell Cheese, situated in the heart of Manitoba's dairy belt in New Bothwell, has been producing quality cheese since 1936. Made with fresh, locally-produced milk, you can still taste the...