---
Canadian Cheese Repertoire
Explore the world of Canadian cheese – made from 100% Canadian milk. From Blue cheese to Tomme, our Canadian Cheese Repertoire showcases irresistible cheeses for every taste.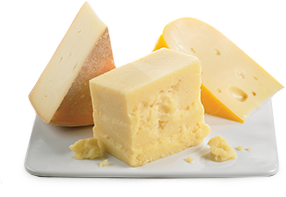 Provolone
It has a pale to golden-rind, and comes in various forms, though the squat pear-shape is the most recognizable.
Hard
Did you know Canadian Parmesan is covered with one very hard rind. How hard? According to both cheese and ballistics experts, it is practically bulletproof!
Grandpa's Dairy Produce Inc.
Grandpa's Dairy Produce is a 5-year-old company that produces different types of Queso Fresco – a traditional Latin American cheese. Ernesto Restrepo, cheese maker and co-owner, has been...