---
Canadian Cheese Repertoire
Explore the world of Canadian cheese – made from 100% Canadian milk. From Blue cheese to Tomme, our Canadian Cheese Repertoire showcases irresistible cheeses for every taste.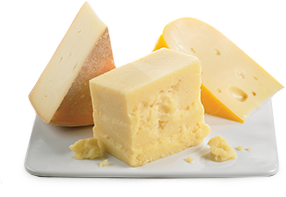 Blue
Many Blue cheeses were originally produced in caves, where mold was naturally present, and therefore imparted its blue-green colour to the cheese. Thankfully, someone decided to sample what others...
Fresh
While the word "fresh" refers to a mode of manufacturing, it could equally be used to describe the taste and texture of Fresh cheeses.
Tiras Dairies Inc. - Vlahos
Tiras Dairies is a locally-owned and operated dairy processing plant. Their federally inspected plant is located in the city of Camrose, Alberta, where they process milk into authentic Feta and...