---
Canadian Cheese Repertoire
Explore the world of Canadian cheese – made from 100% Canadian milk. From Blue cheese to Tomme, our Canadian Cheese Repertoire showcases irresistible cheeses for every taste.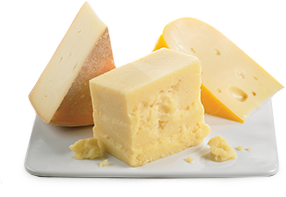 Halloumi
Halloumi, derived from the Greek word "almi", meaning "salty", is a unique cheese. It has impressive heat tolerance, and this higher-than-normal resistance to melting, makes it a perfect cheese...
Soft
Soft cheeses are known for their lush texture, smooth and creamy flavour, and interiors that are not pressed nor cooked.
Fromagerie de la Ferme Ducrêt
Rudy Ducreux and Sébastien Danian fulfilled a dream when they took over Luc Mailloux's farm in Saint-Basile. Their products are made from the milk of their own Jersey, Holstein and Ayrshire cows...