---
Canadian Cheese Repertoire
Explore the world of Canadian cheese – made from 100% Canadian milk. From Blue cheese to Tomme, our Canadian Cheese Repertoire showcases irresistible cheeses for every taste.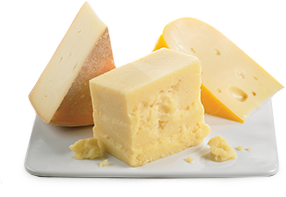 Brick
Authentically North American. It is said that the name comes from the fact that bricks were used to press the cheese.
Hard
Did you know Canadian Parmesan is covered with one very hard rind. How hard? According to both cheese and ballistics experts, it is practically bulletproof!
Quality Cheese Inc. - Albert's Leap
Quality Cheese Inc. is a manufacturer, distributor and retailer of Italian specialty cheese and cheese snack products, including Albert's Leap. Incorporated in 1988, it produces a large...