---
Canadian Cheese Repertoire
Explore the world of Canadian cheese – made from 100% Canadian milk. From Blue cheese to Tomme, our Canadian Cheese Repertoire showcases irresistible cheeses for every taste.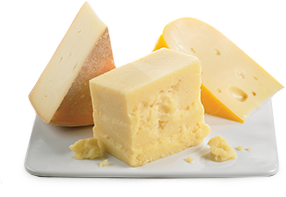 Provolone
It has a pale to golden-rind, and comes in various forms, though the squat pear-shape is the most recognizable.
Firm
Ever wonder where the holes or "eyes" come from in Canadian Swiss? As these Firm cheeses ripen, they release propionic gases which become trapped in pockets. And that, for all you inquiring cheese...
Bright Cheese And Butter - Bright Brand
Bright Cheese & Butter was established in 1874 by a group of local farmers who realized they had a surplus of milk each month from their livestock. It is the oldest remaining Cheddar factory...