---
Canadian Cheese Repertoire
Explore the world of Canadian cheese – made from 100% Canadian milk. From Blue cheese to Tomme, our Canadian Cheese Repertoire showcases irresistible cheeses for every taste.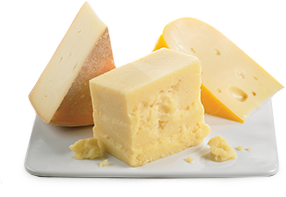 Ricotta
Traditionally, Ricotta was made from the whey left over after making cheeses such as Mozzarella and Provolone, hence the name Ricotta which means "re-cooked".
Firm
Ever wonder where the holes or "eyes" come from in Canadian Swiss? As these Firm cheeses ripen, they release propionic gases which become trapped in pockets. And that, for all you inquiring cheese...
Fromagerie St-Fidèle
The Fromagerie St-Fidèle, located in the beautiful region of Charlevoix with superb views of the St. Lawrence River, offers cheeses that are the product of 100 years of know-how and with...