---
Canadian Cheese Repertoire
Explore the world of Canadian cheese – made from 100% Canadian milk. From Blue cheese to Tomme, our Canadian Cheese Repertoire showcases irresistible cheeses for every taste.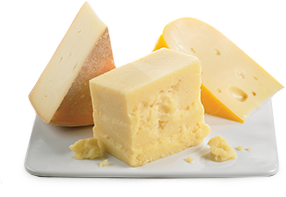 Monterey Jack
Also called Jack, California Jack, and in Canada, Canadian Monterey Jack, this cheese has a mild, nutty flavour with slightly acidulous undertones.
Semi-soft
The vast variety and versatility of Canadian Semi-soft cheeses make them perfect for those just discovering and developing a taste for cheese, as well as for the adventurous and experienced cheese...
Pine River Cheese & Butter Co-operative
From humble beginnings in 1885, the cheese makers of Pine River Cheese & Butter Co-operative have built a reputation for their unique brand of high-quality Aged Cheddar.