---
Canadian Cheese Repertoire
Explore the world of Canadian cheese – made from 100% Canadian milk. From Blue cheese to Tomme, our Canadian Cheese Repertoire showcases irresistible cheeses for every taste.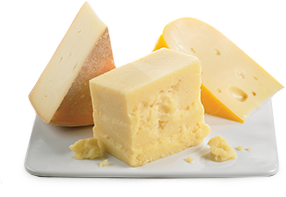 Edam
Traditionally sold in spheres and wrapped in red or yellow paraffin wax, this pale yellow cheese with the mellow taste is a great all-purpose cheese sure to please all!
Fresh
While the word "fresh" refers to a mode of manufacturing, it could equally be used to describe the taste and texture of Fresh cheeses.
Blue Harbour Cheese
Blue Harbour Cheese is an artisanal producer specializing in traditional and not-so-traditional handmade Blue cheese. In the modern urban facility in the leafy North End of Halifax, Nova Scotia,...