---
Canadian Cheese Repertoire
Explore the world of Canadian cheese – made from 100% Canadian milk. From Blue cheese to Tomme, our Canadian Cheese Repertoire showcases irresistible cheeses for every taste.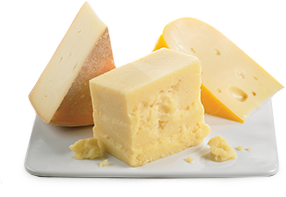 Camembert
Young Camembert has a milky taste with sweet hints. As it matures, it forms the bloomy white rind and smooth interior that is typical to Camembert.
Hard
Did you know Canadian Parmesan is covered with one very hard rind. How hard? According to both cheese and ballistics experts, it is practically bulletproof!
Les Fromages de l'isle d'Orléans
The first cheese in America was made in 1635 on Île d'Orléans by French colonists. The recipe passed from generation to generation for centuries, but vanished from the market for more than 40...