---
Canadian Cheese Repertoire
Explore the world of Canadian cheese – made from 100% Canadian milk. From Blue cheese to Tomme, our Canadian Cheese Repertoire showcases irresistible cheeses for every taste.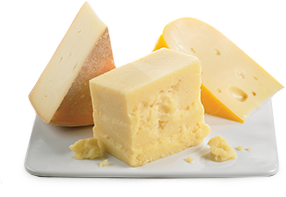 Mascarpone
Making this cheese is apparently so simple that many people prepare their own Mascarpone at home. This buttery-rich and creamy cheese is great simply topped with fruit or embellished by other...
Fresh
While the word "fresh" refers to a mode of manufacturing, it could equally be used to describe the taste and texture of Fresh cheeses.
M.C. Dairy Company (1991) Limited
M.C. Dairy is a small business located in Etobicoke, Ontario since 1991, but has been making high-quality Canadian cheeses for 75 years.