---
Canadian Cheese Repertoire
Explore the world of Canadian cheese – made from 100% Canadian milk. From Blue cheese to Tomme, our Canadian Cheese Repertoire showcases irresistible cheeses for every taste.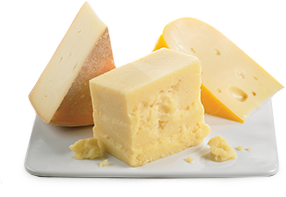 Gouda
Apparently, Cheese makers judge the quality of a wheel of Gouda by the sound made when struck with the index finger. If it makes the same sound a plank would, it is perfect!
Firm
Ever wonder where the holes or "eyes" come from in Canadian Swiss? As these Firm cheeses ripen, they release propionic gases which become trapped in pockets. And that, for all you inquiring cheese...
Upper Canada Cheese Co.
In the first small, modern Niagara creamery in generations, Upper Canada Cheese Company handcrafts premium artisanal cheeses from the milk of local Guernsey cows. Their talented cheese makers...