---
Canadian Cheese Repertoire
Explore the world of Canadian cheese – made from 100% Canadian milk. From Blue cheese to Tomme, our Canadian Cheese Repertoire showcases irresistible cheeses for every taste.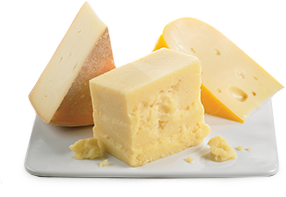 Saint-Paulin
From the family of cheeses originally made by trappist monks, comes the delicious, melt-in-your-mouth Saint-Paulin, which is similar to Noyan .
Firm
Ever wonder where the holes or "eyes" come from in Canadian Swiss? As these Firm cheeses ripen, they release propionic gases which become trapped in pockets. And that, for all you inquiring cheese...
Fromagerie Île-aux-Grues
The fromagerie is closely linked to agricultural production, which is the main economic activity of the Island. Today, five dairy farmers have come together to form this cooperative, with the aim...