---
Canadian Cheese Repertoire
Explore the world of Canadian cheese – made from 100% Canadian milk. From Blue cheese to Tomme, our Canadian Cheese Repertoire showcases irresistible cheeses for every taste.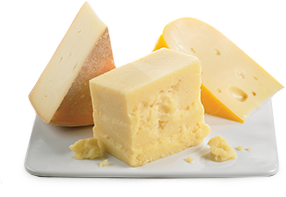 Gouda
Apparently, Cheese makers judge the quality of a wheel of Gouda by the sound made when struck with the index finger. If it makes the same sound a plank would, it is perfect!
Hard
Did you know Canadian Parmesan is covered with one very hard rind. How hard? According to both cheese and ballistics experts, it is practically bulletproof!
Fox Hill Cheese House
Fox Hill Farm, a sixth-generation family farm nestled in the lush Annapolis Valley of Nova Scotia, is home to Fox Hill Cheese House. They plant the seed and grow the grass in order to use the...