---
Canadian Cheese Repertoire
Explore the world of Canadian cheese – made from 100% Canadian milk. From Blue cheese to Tomme, our Canadian Cheese Repertoire showcases irresistible cheeses for every taste.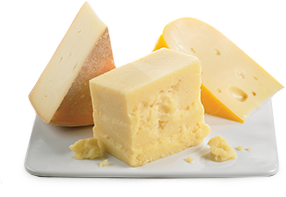 Halloumi
Halloumi, derived from the Greek word "almi", meaning "salty", is a unique cheese. It has impressive heat tolerance, and this higher-than-normal resistance to melting, makes it a perfect cheese...
Hard
Did you know Canadian Parmesan is covered with one very hard rind. How hard? According to both cheese and ballistics experts, it is practically bulletproof!
Fromagerie L'Autre Versant
As the sixth generation, Stéphane Tremblay and Chantale Lalancette have owned the ancestral farm since 2000, and realized their dream when they built the cheese dairy in 2004. Their cheese...