---
Canadian Cheese Repertoire
Explore the world of Canadian cheese – made from 100% Canadian milk. From Blue cheese to Tomme, our Canadian Cheese Repertoire showcases irresistible cheeses for every taste.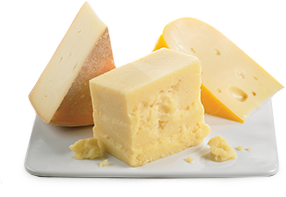 Cream Cheese
Cream Cheese is super-smooth, spreads fabulously and adapts perfectly with many flavours - salty or sweet. Enjoy from morning to night - from topping bagels to filling cheesecakes!
Soft
Soft cheeses are known for their lush texture, smooth and creamy flavour, and interiors that are not pressed nor cooked.
Les Fromages de l'isle d'Orléans
The first cheese in America was made in 1635 on Île d'Orléans by French colonists. The recipe passed from generation to generation for centuries, but vanished from the market for more than 40...