---
Canadian Cheese Repertoire
Explore the world of Canadian cheese – made from 100% Canadian milk. From Blue cheese to Tomme, our Canadian Cheese Repertoire showcases irresistible cheeses for every taste.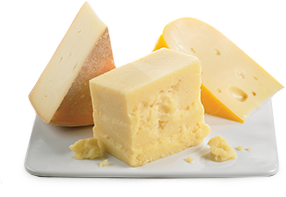 Provolone
It has a pale to golden-rind, and comes in various forms, though the squat pear-shape is the most recognizable.
Soft
Soft cheeses are known for their lush texture, smooth and creamy flavour, and interiors that are not pressed nor cooked.
M.C. Dairy Company (1991) Limited
M.C. Dairy is a small business located in Etobicoke, Ontario since 1991, but has been making high-quality Canadian cheeses for 75 years.