---
Canadian Cheese Repertoire
Explore the world of Canadian cheese – made from 100% Canadian milk. From Blue cheese to Tomme, our Canadian Cheese Repertoire showcases irresistible cheeses for every taste.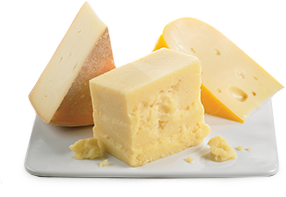 Edam
Traditionally sold in spheres and wrapped in red or yellow paraffin wax, this pale yellow cheese with the mellow taste is a great all-purpose cheese sure to please all!
Firm
Ever wonder where the holes or "eyes" come from in Canadian Swiss? As these Firm cheeses ripen, they release propionic gases which become trapped in pockets. And that, for all you inquiring cheese...
Upper Bench Estate Winery
Located just outside Penticton, at the gateway to the Naramata Bench, Upper Bench offers a unique opportunity to experience two of their passions: wine and cheese. Their dedicated vineyard crew...