Herbed Bruschetta
Parmesan Pick-Up Sticks
View more "Hors D'oeuvres & Appetizers" recipes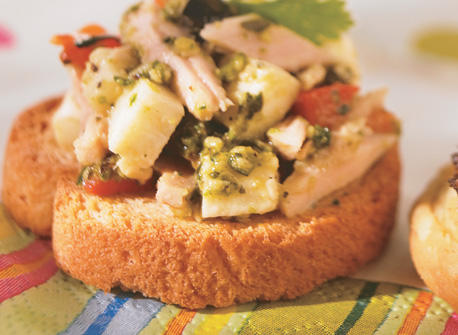 Tuna and Bocconcini Bruschetta
Add to Calendar
09/20/2019 10:00 AM
09/20/2019 11:00 AM
America/New_York
Choose the perfect time to make this recipe
What you'll need:

1 cup (250 mL) finely diced Canadian Bocconcini
1 can (120 g) flaked tuna, drained
1/3 cup (80 mL) red bell peppers, grilled and finely diced
1/4 cup (60 mL) sliced black olives
2 tbsp (30 mL) pesto
Salt and freshly ground pepper
About 2 dozen small crackers or rusks

Yields: to 24 bruschetta

See full recipe: https://www.dairygoodness.ca/cheese/canadian-cheese/recipes/tuna-and-bocconcini-bruschetta?source=calendar
Tuna and Bocconcini Bruschetta
true
MM/DD/YYYY
anvcJoeUXzVEZwIspmZn22961
Course

Hors D'oeuvres & Appetizers

Prep. Time

15 mins

Yields

to 24 bruschetta
Course

Hors D'oeuvres & Appetizers

Prep. Time

15 mins

Yields

to 24 bruschetta
Did you know?
---
Ingredients
1 cup
(250 mL) finely diced
Canadian Bocconcini
1 can
(120 g)
flaked tuna
, drained
1/3 cup
(80 mL)
red bell peppers
, grilled and finely diced
1/4 cup
(60 mL) sliced
black olives
Salt and freshly ground pepper
About 2 dozen small
crackers
or
Preparation
In a bowl, combine cheese, tuna, red bell peppers, olives and pesto. Salt and pepper to taste.
Spread mixture on crackers or rusks.
Tips
Can be served on toasted baguette slices. For more flavour, prepare mixture ahead but do not spread on crackers until just before serving, so crackers remain crisp.
Did you know?
Did you know?