Jumbo Shells Italiano
Shepherd's Pie with Mozzarella
View more "Main Dishes" recipes
Simple risotto with shrimp, asparagus and Aged Cheddar
Add to Calendar
07/22/2017 10:00 AM
07/22/2017 11:00 AM
America/New_York
Choose the perfect time to make this recipe
What you'll need:

1 tbsp (15 mL) butter
1 onion, chopped
2 garlic cloves, chopped
1 1/4 cups (310 mL) arborio rice
1/2 cup (125 mL) white wine
3 cups (750 mL) sodium-reduced chicken broth
1/2 tsp (2 mL) dried thyme
1 bay leaf
1 1/3 lb (600 g) large shrimp, shelled
1 bunch of fresh asparagus, (1 lb – 450 g), cut into 1˝ (2.5 cm) segments
1 1/2 cups (375 mL) Canadian Aged Cheddar, grated

Yields: 4 to 6 servings

See full recipe: https://www.dairygoodness.ca/cheese/canadian-cheese/recipes/simple-risotto-with-shrimp-asparagus-and-aged-cheddar?source=calendar
Simple risotto with shrimp, asparagus and Aged Cheddar
true
MM/DD/YYYY
anvcJoeUXzVEZwIspmZn22961
Comments
Course

Main Dishes

Prep. Time

15 mins

Cooking Time

30 mins

Yields

4 to 6 servings
Course

Main Dishes

Prep. Time

15 mins

Cooking Time

30 mins

Yields

4 to 6 servings
Did you know?
---
Ingredients
1 1/4 cups
(310 mL)
arborio rice
1/2 cup
(125 mL)
white wine
3 cups
(750 mL) sodium-reduced
chicken broth
1/2 tsp
(2 mL)
dried thyme
1 1/3 lb
(600 g)
large shrimp
, shelled
1
bunch of fresh
asparagus
, (1 lb – 450 g), cut into 1˝ (2.5 cm) segments
1 1/2 cups
(375 mL)
Canadian Aged Cheddar
, grated
Preparation
Watch the video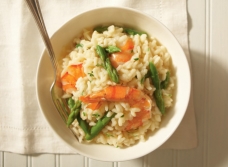 Embed Video
Copy and paste this code into your webpage
Ok
In a large skillet, melt butter on medium heat and cook onion and garlic for 2 minutes.
Add rice and stir thoroughly to coat the grains with butter.
Deglaze with white wine and reduce by half.
Pour broth into skillet and add herbs. Cover and let simmer 15 minutes.
Add shrimp and asparagus, stir and continue cooking, covered, for another 5–7 minutes. Remove lid, stir and cook another 5 minutes, uncovered, to allow any excess liquid to evaporate.
Remove bay leaf and add Cheddar. Season to taste, stir and serve.
Tips
Note: For a variation, shrimp may be replaced with chicken breasts cut into cubes.
Cheese alternatives: Canadian Mild or Medium Cheddar, Provolone.
Did you know?
Did you know?