Herbed Bruschetta
Parmesan Pick-Up Sticks
View more "Hors D'oeuvres & Appetizers" recipes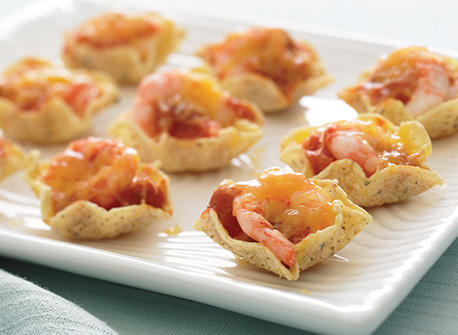 Salsa Shrimp Melts
Add to Calendar
01/17/2018 10:00 AM
01/17/2018 11:00 AM
America/New_York
Choose the perfect time to make this recipe
What you'll need:

4 oz (125 g) northern shrimp
1/4 cup (60 mL) salsa
16 to 20 crackers or baked tortilla chips
1/2 cup (125 mL) shredded Canadian Monterey Jack or Mozzarella cheese

Yields: 16 to 20 pieces

See full recipe: https://www.dairygoodness.ca/cheese/canadian-cheese/recipes/salsa-shrimp-melts?source=calendar
Salsa Shrimp Melts
true
MM/DD/YYYY
anvcJoeUXzVEZwIspmZn22961
Course

Hors D'oeuvres & Appetizers

Prep. Time

10 - 15 mins

Cooking Time

3 mins

Yields

16 to 20 pieces
It doesn't need to be a special occasion, you can turn any after school snack into a fiesta with these tasty bites.


Course

Hors D'oeuvres & Appetizers

Prep. Time

10 - 15 mins

Cooking Time

3 mins

Yields

16 to 20 pieces
Did you know?
---
Ingredients
4 oz
(125 g)
northern shrimp
1/2 cup
(125 mL) shredded
Canadian Monterey Jack
or
Preparation
Drain shrimp, pat dry and cut into small pieces. In a bowl, combine shrimp and salsa. Spoon evenly on top of crackers. Place on a small baking sheet. Sprinkle cheese evenly over shrimp mixture.
Bake in preheated 400 °F (200 °C) oven or toaster oven for about 3 minutes or until cheese is melted.

Tips
A smooth salsa works best for this recipe. Some of the chunky versions may have pieces that are too big to fit on the cracker.
To microwave, place 4 or 5 crackers on a microwave-safe plate and microwave on Medium-High (70 %) power for about 20 seconds or until cheese is melted.
Did you know?
Did you know?