Cheesecake with Raspberry Sauce
Chocolate Chocolate Chip Cookies (Cooking Club Size)
View more "Desserts & Sweets" recipes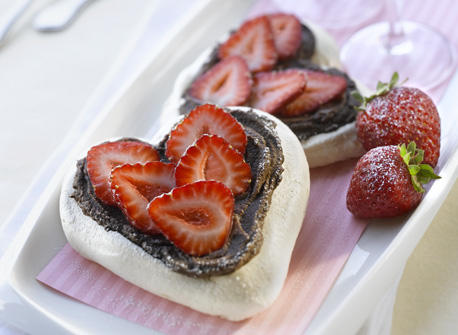 Open-Faced Chocolate Mousse and Cinnamon Meringue Cookies
Add to Calendar
09/20/2019 10:00 AM
09/20/2019 11:00 AM
America/New_York
Choose the perfect time to make this recipe
What you'll need:

4 egg whites
1 tsp (5 mL) white vinegar
1 cup (250 mL) sugar
1/2 tsp (2 mL) ground cinnamon
6 oz (175 g) finely chopped semi-sweet chocolate
1/2 cup (125 mL) Canadian Mascarpone cheese
1 cup (250 mL) 35 % cream
1 to 2 tbsp (15 to 30 mL) sliced strawberries

Yields: 12 cookies

See full recipe: https://www.dairygoodness.ca/cheese/canadian-cheese/recipes/open-faced-chocolate-mousse-and-cinnamon-meringue-cookies?source=calendar
Open-Faced Chocolate Mousse and Cinnamon Meringue Cookies
true
MM/DD/YYYY
anvcJoeUXzVEZwIspmZn22961
Course

Desserts & Sweets

Prep. Time

1 hr, 15 mins - 1 hr, 20 mins

Cooking Time

1 hr, 30 mins

Refrigeration Time

2 hrs

Yields

12 cookies
Make this easy two-part dessert for the many loves of your life! Thick rich dark chocolate mousse featuring cream tops feather-light heart shaped meringue cookies.


Course

Desserts & Sweets

Prep. Time

1 hr, 15 mins - 1 hr, 20 mins

Cooking Time

1 hr, 30 mins

Refrigeration Time

2 hrs

Yields

12 cookies
Did you know?
---
Ingredients
1 tsp
(5 mL)
white vinegar
1/2 tsp
(2 mL)
ground cinnamon
6 oz
(175 g) finely chopped
semi-sweet chocolate
1/2 cup
(125 mL)
Canadian Mascarpone cheese
1 cup
(250 mL)
35 % cream
1 to 2 tbsp (15 to 30 mL) sliced
strawberries
Preparation
Preheat oven to 250°F (120 °C). Line rimless baking sheet with parchment paper.
In large bowl, beat egg whites and vinegar until soft peaks form; beat in sugar, 2 tbsp (30 mL) at a time, until stiff glossy peaks form. Beat in cinnamon. To make free form hearts, drop about 1/4 cup (60 mL) of batter onto baking sheet; with a knife or an off-set spatula, spread into the shape of a heart, approx 3-inches (7 cm) in diameter and 1-inch (2.5 cm) high. Bake for 1-1/2 hrs or until dry and crisp but not coloured. Turn off oven; leave meringues in oven for 1 hr longer.
In a large bowl, place chopped chocolate and Canadian Mascarpone cheese. In a microwave-safe bowl, heat 1 cup (250 mL) cream for 1-1/2 min on High (100 %) power or until steaming. Pour over cheese mixture and let stand 2 min; gently whisk until well smooth. Chill completely in refrigerator, about 2 hrs.
Whip chocolate mixture until light and fluffy. If mousse is too stiff or dry, add 1 tbsp (15 mL) cream at a time to smooth out to spreading consistency. Spread mousse in shape of a heart on cookies, leaving a border to show off the white meringue.
Cookies can be loosely covered and refrigerated for up to 8 hrs. Garnish with strawberries, if desired.
Tips
Place a dab of meringue in each corner between the baking sheet and the parchment paper to keep the paper from moving while placing meringue mixture. For a fuller meringue, allow egg whites to come to room temperature.
For perfectly symmetrical hearts, place a lightly buttered 3-inch (7 cm) heart-shaped cookie cutter on baking sheet; spoon enough meringue to fill the cutter completely. Smooth surface with a knife or an off-set spatula and gently remove the cutter. Clean knife and smooth sides of meringue. Clean the cutter and repeat with remaining meringue; ensure the cutter is lightly buttered and knife is clean with each addition.
Did you know?
Did you know?