Herbed Bruschetta
Parmesan Pick-Up Sticks
View more "Hors D'oeuvres & Appetizers" recipes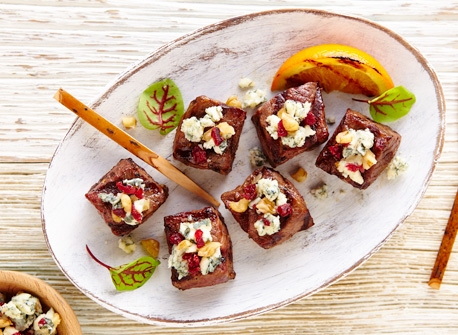 Grilled Beef & Blue cheese bites
Add to Calendar
05/25/2019 10:00 AM
05/25/2019 11:00 AM
America/New_York
Choose the perfect time to make this recipe
What you'll need:

1 lb (450 g) beef cubes
Salt and freshly ground pepper
1/4 cup (60 mL) walnuts, finely chopped
2 tbsp (30 mL) dried cranberries, finely chopped
2 tbsp (30 mL) orange juice
2 oz (60 g) Canadian Blue cheese, crumbled

Yields: 8 Servings

See full recipe: https://www.dairygoodness.ca/cheese/canadian-cheese/recipes/grilled-beef-blue-cheese-bites?source=calendar
Grilled Beef & Blue cheese bites
true
MM/DD/YYYY
anvcJoeUXzVEZwIspmZn22961
Course

Hors D'oeuvres & Appetizers

Prep. Time

20 mins

Cooking Time

15 mins

Yields

8 Servings
Course

Hors D'oeuvres & Appetizers

Prep. Time

20 mins

Cooking Time

15 mins

Yields

8 Servings
Did you know?
---
Ingredients
Salt and freshly ground pepper
1/4 cup
(60 mL)
walnuts, finely chopped
2 tbsp
(30 mL)
dried cranberries, finely chopped
2 tbsp
(30 mL)
orange juice
2 oz
(60 g)
Canadian Blue cheese
, crumbled
Preparation
Preheat barbecue to medium-high heat.
Season beef cubes with salt and pepper. Cook on the grill for 4–5 minutes, depending on size of the cubes and desired doneness, turning occasionally.
Meanwhile, mix nuts with cranberries, orange juice and Blue cheese. Add pepper to taste.
Serve grilled beef cubes topped with Blue cheese mixture.
Tips
Variations:
Cheese alternatives: Canadian Feta.
Did you know?
Did you know?