Jumbo Shells Italiano
Shepherd's Pie with Mozzarella
View more "Main Dishes" recipes
Festive Fondue
Add to Calendar
09/20/2019 10:00 AM
09/20/2019 11:00 AM
America/New_York
Choose the perfect time to make this recipe
What you'll need:

1 tbsp (15 mL) butter
1 dry shallot, chopped
1 clove garlic, minced
1 cup (250 mL) white wine
1/3 cup (80 mL) dried cranberries
1 tbsp (15 mL) chopped fresh rosemary or 1 tsp (5 mL) dried rosemary
1/2 lb (225 g) Canadian Gouda cheese, shredded
1/4 lb (112 g) Canadian Cheddar cheese, shredded
1/4 lb (112 g) Canadian Swiss cheese, shredded
1 tbsp (15 mL) corn starch
Freshly ground pepper, to taste

Yields: 6 servings

See full recipe: https://www.dairygoodness.ca/cheese/canadian-cheese/recipes/festive-fondue?source=calendar
Festive Fondue
true
MM/DD/YYYY
anvcJoeUXzVEZwIspmZn22961
Course

Main Dishes

Prep. Time

20 mins

Cooking Time

20 mins

Yields

6 servings
Course

Main Dishes

Prep. Time

20 mins

Cooking Time

20 mins

Yields

6 servings
Did you know?
---
Ingredients
1 cup
(250 mL)
white wine
1/3 cup
(80 mL)
dried cranberries
1 tbsp
(15 mL) chopped
fresh rosemary
or
1 tsp
(5 mL)
dried rosemary
1/2 lb
(225 g)
Canadian Gouda cheese
, shredded
1/4 lb
(112 g)
Canadian Cheddar cheese
, shredded
1/4 lb
(112 g)
Canadian Swiss cheese
, shredded
1 tbsp
(15 mL)
corn starch
Freshly ground pepper
, to taste
Preparation
Watch the video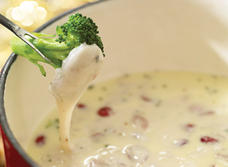 Embed Video
Copy and paste this code into your webpage
Ok
Close Video
Cheese fondue is the comfort food par excellence! What better way to enjoy the holidays than by sharing a delicious meal with family and friends. Try our original recipe shown in this video, made with Canadian Cheddar, Swiss and Havarti cheeses combined with dried cranberries.
In a fondue pot over medium heat, melt the butter and sauté the shallot and garlic for 2 to 3 minutes. Add wine, cranberries and rosemary and simmer about 3 to 4 minutes or until reduced to 1/3. Add shredded cheeses and corn starch. Let melt over low heat, stirring continuously with a wooden spoon. Add pepper to taste. Serve at once with different breads, but also cured meats, vegetables, fruit, nuts, etc.
Tips
For a more kid-friendly alternative, replace white wine with chicken broth or unsweetened apple or white grape juice. Recipe can be prepared in the microwave oven at low intensity.
For tasty alternatives, try this with Canadian Raclette, Provolone or Emmental.
Did you know?
Did you know?