Jumbo Shells Italiano
Shepherd's Pie with Mozzarella
View more "Main Dishes" recipes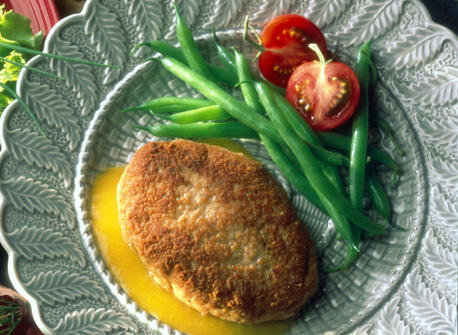 Chicken Parmesan Patties with Peach and Garlic Sauce
Add to Calendar
10/15/2019 10:00 AM
10/15/2019 11:00 AM
America/New_York
Choose the perfect time to make this recipe
What you'll need:

1 lb (450 g) ground poultry
1/4 cup (60 mL) breadcrumbs
1 egg, beaten
1 tsp (5 mL) paprika
2 tsp (10 mL) Worcestershire sauce
1 tsp (5 mL) dried thyme
Salt and pepper, to taste
1/2 cup (125 mL) grated Canadian Parmesan cheese
Vegetable oil

Peach and Garlic Sauce:
1 can (19 oz/540 mL) peaches with juice
1/3 cup (80 mL) water
3 whole garlic cloves, peeled
pinch of ground ginger

Yields: 4 servings

See full recipe: https://www.dairygoodness.ca/cheese/canadian-cheese/recipes/chicken-parmesan-patties-with-peach-and-garlic-sauce?source=calendar
Chicken Parmesan Patties with Peach and Garlic Sauce
true
MM/DD/YYYY
anvcJoeUXzVEZwIspmZn22961
Course

Main Dishes

Prep. Time

15 mins

Cooking Time

30 mins

Yields

4 servings
Course

Main Dishes

Prep. Time

15 mins

Cooking Time

30 mins

Yields

4 servings
Did you know?
---
Ingredients
1 lb
(450 g)
ground poultry
1/4 cup
(60 mL)
breadcrumbs
2 tsp
(10 mL)
Worcestershire sauce
Salt and pepper
, to taste
1/2 cup
(125 mL) grated
Canadian Parmesan cheese
Peach and Garlic Sauce:
1 can
(19 oz/540 mL)
peaches with juice
3
whole garlic cloves
, peeled
Preparation
In bowl, mix together with fork ground poultry, breadcrumbs and egg. Add paprika, Worcestershire sauce, thyme and generously season with salt and pepper. Mix well.
Shape mixture into 4 patties and coat with Canadian Parmesan cheese.
In skillet, cook patties over medium heat in vegetable oil for 7 to 8 minutes on each side or until well done. Remove from skillet and drain on paper towels. Serve one patty per person over Peach and Garlic Sauce. Serve with green beans and sliced tomatoes.
Peach and Garlic Sauce:
In saucepan, bring all ingredients to boil while stirring. Reduce heat to low and simmer for 15 minutes, occasionally stirring. Remove garlic cloves and discard. Remove skillet from heat and purée sauce in food processor. If needed, warm in microwave oven.
Did you know?
Did you know?