Jumbo Shells Italiano
Shepherd's Pie with Mozzarella
View more "Main Dishes" recipes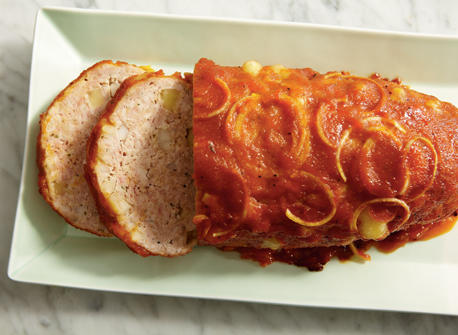 Cheesy Meat Loaf with Apples
Add to Calendar
09/21/2019 10:00 AM
09/21/2019 11:00 AM
America/New_York
Choose the perfect time to make this recipe
What you'll need:

2 lb (900 g) ground chicken
1 lb (450 g) lean ground veal
3 cloves garlic, minced
1 cup (250 mL) Italian-style bread crumbs
1 1/2 cups (375 mL) apples, peeled and diced
6 oz (180 g) Canadian Brick cheese, diced
A few pinches of salt and freshly ground pepper
1/2 cup (125 mL) unsweetened applesauce
1/2 cup (125 mL) ketchup or barbecue sauce
1/2 onion, finely sliced

Yields: 8 servings

See full recipe: https://www.dairygoodness.ca/cheese/canadian-cheese/recipes/cheesy-meat-loaf-with-apples?source=calendar
Cheesy Meat Loaf with Apples
true
MM/DD/YYYY
anvcJoeUXzVEZwIspmZn22961
Course

Main Dishes

Prep. Time

15 mins

Cooking Time

50 mins - 1 hr, 50 mins

Yields

8 servings
Meatloaf gets a makeover! In the highly original recipe, apples and cheese – which go so well together – blend their flavours to perfection. Made with ground chicken and veal, every slice of meatloaf reveals big cubes of melted cheese. Pleasure in every bite!
Course

Main Dishes

Prep. Time

15 mins

Cooking Time

50 mins - 1 hr, 50 mins

Yields

8 servings
Did you know?
---
Ingredients
2 lb
(900 g)
ground chicken
1 lb
(450 g)
lean ground veal
1 cup
(250 mL)
Italian-style bread crumbs
1 1/2 cups
(375 mL)
apples
, peeled and diced
6 oz
(180 g)
Canadian Brick cheese
, diced
A few pinches of
salt and freshly ground pepper
1/2 cup
(125 mL)
unsweetened applesauce
1/2 cup
(125 mL)
ketchup
or
Preparation
Watch the video
Preheat oven to 375 °F (190 °C).
In a large bowl, mix chicken with veal, garlic, bread crumbs, apples and Brick cheese. Season to taste with salt and pepper. Press into a 9 x 5-inch (23 cm x 13 cm) loaf pan and cook in the oven for 1 hour and 30 minutes.
Meanwhile, mix applesauce with ketchup or barbecue sauce and onion. Brush top of meat loaf with applesauce mixture and bake 20 minutes more.*
Tips
*Before serving, use a meat thermometer to check that the internal temperature has reached a minimum of 165 °F (75 °C).
Some of the best apple varieties to cook with are Gala and Cortland because of their good sweet-tart balance and ability to hold their shape as they cook.
Cheese alternatives: Canadian Swiss cheese, Cheddar, Havarti, Mozzarella.
Did you know?
Did you know?