---
Canadian Cheese Repertoire
Explore the world of Canadian cheese – made from 100% Canadian milk. From Blue cheese to Tomme, our Canadian Cheese Repertoire showcases irresistible cheeses for every taste.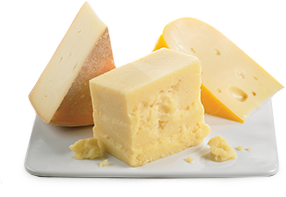 Saint-Paulin
From the family of cheeses originally made by trappist monks, comes the delicious, melt-in-your-mouth Saint-Paulin, which is similar to Noyan .
Semi-soft
The vast variety and versatility of Canadian Semi-soft cheeses make them perfect for those just discovering and developing a taste for cheese, as well as for the adventurous and experienced cheese...
M.C. Dairy Company (1991) Limited
M.C. Dairy is a small business located in Etobicoke, Ontario since 1991, but has been making high-quality Canadian cheeses for 75 years.