---
Canadian Cheese Repertoire
Explore the world of Canadian cheese – made from 100% Canadian milk. From Blue cheese to Tomme, our Canadian Cheese Repertoire showcases irresistible cheeses for every taste.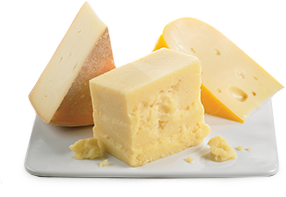 Edam
Traditionally sold in spheres and wrapped in red or yellow paraffin wax, this pale yellow cheese with the mellow taste is a great all-purpose cheese sure to please all!
Soft
Soft cheeses are known for their lush texture, smooth and creamy flavour, and interiors that are not pressed nor cooked.
La Trappe à Fromage
La Trappe à Fromage was created in 1995 by Gilles Joanisse and Mario Hébert in Gatineau, Quebec. Today, all of their cheeses are made with pasteurized milk that comes from dairy farms in the...