---
Canadian Cheese Repertoire
Explore the world of Canadian cheese – made from 100% Canadian milk. From Blue cheese to Tomme, our Canadian Cheese Repertoire showcases irresistible cheeses for every taste.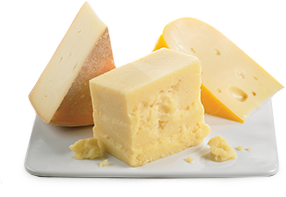 Swiss
The "eyes" or holes in Swiss, which fascinate children, sometimes ooze with some of the cheese's oils. This process, along with adding to the cheese's interest, is a sure sign of freshness.
Soft
Soft cheeses are known for their lush texture, smooth and creamy flavour, and interiors that are not pressed nor cooked.
Fromagerie Le P'tit Train Du Nord
After tasting the Cheese Curds made by Le P'tit Train du Nord, the current owners teamed up with and eventually purchased this now family-owned cheese dairy. Their additive-free artisan cheeses...