---
Canadian Cheese Repertoire
Explore the world of Canadian cheese – made from 100% Canadian milk. From Blue cheese to Tomme, our Canadian Cheese Repertoire showcases irresistible cheeses for every taste.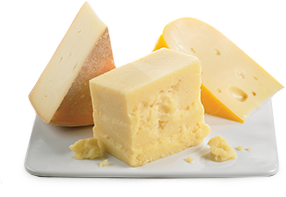 Mozzarella
Mozzarella is a rindless, Semi-soft pasta filata cheese. The name comes from the Italian verb "mozzare", which means "to cut".
Firm
Ever wonder where the holes or "eyes" come from in Canadian Swiss? As these Firm cheeses ripen, they release propionic gases which become trapped in pockets. And that, for all you inquiring cheese...
Fromagerie Boivin
Fromagerie Boivin was founded in 1939 by the Boivin family. At that time the demand was for Aged Cheddar destined for export. Today the family business is run by third and fourth generations who...