---
Canadian Cheese Repertoire
Explore the world of Canadian cheese – made from 100% Canadian milk. From Blue cheese to Tomme, our Canadian Cheese Repertoire showcases irresistible cheeses for every taste.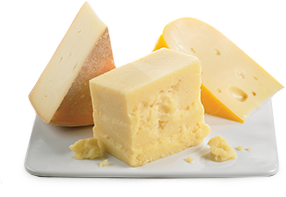 Blend
Combining 2 or more cheeses together results in a new class or family of cheese known as a Blend. In a Blend, the individual characters of each cheese are present, yet they also unite to create...
Firm
Ever wonder where the holes or "eyes" come from in Canadian Swiss? As these Firm cheeses ripen, they release propionic gases which become trapped in pockets. And that, for all you inquiring cheese...
Fromagerie du Terroir de Bellechasse
The Fromagerie du Terroir de Bellechasse is a well-established family business located near the St. Lawrence River, in the municipality of St-Vallier de Bellechasse - where nature presents...