---
Canadian Cheese Repertoire
Explore the world of Canadian cheese – made from 100% Canadian milk. From Blue cheese to Tomme, our Canadian Cheese Repertoire showcases irresistible cheeses for every taste.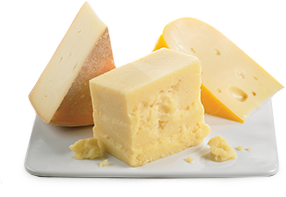 Cottage
An authentically North American cheese, Cottage cheese is refreshing, usually velvety in texture and has the wholesome and slightly sweet taste of milk.
Firm
Ever wonder where the holes or "eyes" come from in Canadian Swiss? As these Firm cheeses ripen, they release propionic gases which become trapped in pockets. And that, for all you inquiring cheese...
Golden Ears Cheesecrafters Ltd.
Golden Ears Cheesecrafters Ltd. seamlessly combines the talents of the Davison Family to form the Fraser Valley's newest artisan cheese processing facility, local food shop and bistro...