---
Canadian Cheese Repertoire
Explore the world of Canadian cheese – made from 100% Canadian milk. From Blue cheese to Tomme, our Canadian Cheese Repertoire showcases irresistible cheeses for every taste.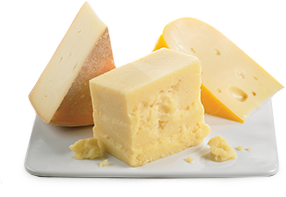 Colby
Colby cheese was developed in the 1880's in Colby, Wisconsin. It originated as an American Cheddar-type cheese called Colby Cheddar.
Semi-soft
The vast variety and versatility of Canadian Semi-soft cheeses make them perfect for those just discovering and developing a taste for cheese, as well as for the adventurous and experienced cheese...
Fromagerie Le P'tit Train Du Nord
After tasting the Cheese Curds made by Le P'tit Train du Nord, the current owners teamed up with and eventually purchased this now family-owned cheese dairy. Their additive-free artisan cheeses...