---
Canadian Cheese Repertoire
Explore the world of Canadian cheese – made from 100% Canadian milk. From Blue cheese to Tomme, our Canadian Cheese Repertoire showcases irresistible cheeses for every taste.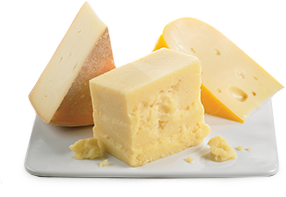 Monterey Jack
Also called Jack, California Jack, and in Canada, Canadian Monterey Jack, this cheese has a mild, nutty flavour with slightly acidulous undertones.
Soft
Soft cheeses are known for their lush texture, smooth and creamy flavour, and interiors that are not pressed nor cooked.
Fromagerie La Chaudière
The Fromagerie La Chaudière offers healthy, high-quality products, and uses methods of manufacturing that are environmentally friendly and promote sustainable development.