---
Canadian Cheese Repertoire
Explore the world of Canadian cheese – made from 100% Canadian milk. From Blue cheese to Tomme, our Canadian Cheese Repertoire showcases irresistible cheeses for every taste.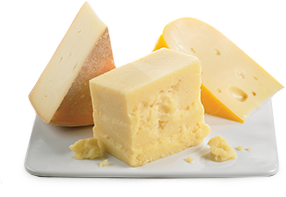 Colby
Colby cheese was developed in the 1880's in Colby, Wisconsin. It originated as an American Cheddar-type cheese called Colby Cheddar.
Semi-soft
The vast variety and versatility of Canadian Semi-soft cheeses make them perfect for those just discovering and developing a taste for cheese, as well as for the adventurous and experienced cheese...
Fromagerie des Basques
Fromagerie des Basques was founded in 1994 by the Pettigrew family. Encouraged by the success of their fresh cheese, they began experimenting with different methods of cheese production, which led...