---
Canadian Cheese Repertoire
Explore the world of Canadian cheese – made from 100% Canadian milk. From Blue cheese to Tomme, our Canadian Cheese Repertoire showcases irresistible cheeses for every taste.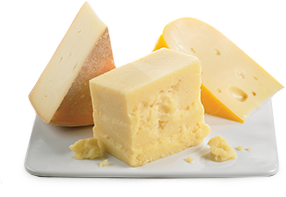 Cheddar
The ambassador for Canadian excellence in cheeses - from snack to macaroni and cheese, Cheddar is versatile, delicious and one of the most popular-selling cheeses in the world.
Hard
Did you know Canadian Parmesan is covered with one very hard rind. How hard? According to both cheese and ballistics experts, it is practically bulletproof!
La Fromagerie Champêtre
With more than 35 years of experience, and a production team that is passionate about making delicious and high-quality cheeses, La Fromagerie Champêtre is a Master cheese maker. It is also...