---
Canadian Cheese Repertoire
Explore the world of Canadian cheese – made from 100% Canadian milk. From Blue cheese to Tomme, our Canadian Cheese Repertoire showcases irresistible cheeses for every taste.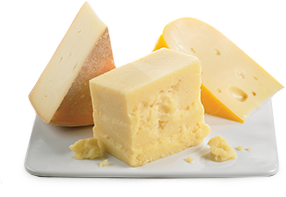 Cottage
An authentically North American cheese, Cottage cheese is refreshing, usually velvety in texture and has the wholesome and slightly sweet taste of milk.
Hard
Did you know Canadian Parmesan is covered with one very hard rind. How hard? According to both cheese and ballistics experts, it is practically bulletproof!
Fromagerie Fritz Kaiser
Founded in 1981 by Mr. Fritz Kaiser, the fromagerie is situated in Noyan, Quebec, close to the New York State border. Fromagerie Fritz Kaiser specializes in the production of washed, bloomy and...