Jumbo Shells Italiano
Shepherd's Pie with Mozzarella
View more "Main Dishes" recipes
Course

Main Dishes

Prep. Time

20 mins

Cooking Time

20 mins

Yields

6 servings
Course

Main Dishes

Prep. Time

20 mins

Cooking Time

20 mins

Yields

6 servings
---
Ingredients
1 cup
(250 mL)
white wine
1/3 cup
(80 mL)
dried cranberries
1 tbsp
(15 mL) chopped
fresh rosemary
or
1 tsp
(5 mL)
dried rosemary
1/2 lb
(225 g)
Canadian Gouda cheese
, shredded
1/4 lb
(112 g)
Canadian Cheddar cheese
, shredded
1/4 lb
(112 g)
Canadian Swiss cheese
, shredded
1 tbsp
(15 mL)
corn starch
Freshly ground pepper
, to taste
Preparation
Watch the video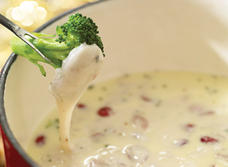 In a fondue pot over medium heat, melt the butter and sauté the shallot and garlic for 2 to 3 minutes. Add wine, cranberries and rosemary and simmer about 3 to 4 minutes or until reduced to 1/3. Add shredded cheeses and corn starch. Let melt over low heat, stirring continuously with a wooden spoon. Add pepper to taste. Serve at once with different breads, but also cured meats, vegetables, fruit, nuts, etc.
Tips
For a more kid-friendly alternative, replace white wine with chicken broth or unsweetened apple or white grape juice. Recipe can be prepared in the microwave oven at low intensity.
For tasty alternatives, try this with Canadian Raclette, Provolone or Emmental.